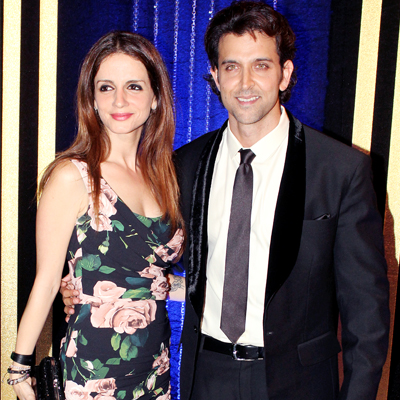 Post the shocking split of Bollywood actor Hrithik Roshan and wife Sussanne over 7 months ago, sources says that Sussanne has reportedly demanded Rs 400 crore as alimony from her former husband.
Even more shocking is the news that Hrithik has agreed to pay Sussanne Rs 380 crores in settlement. Sussanne had been given custody of their children Hrehaan and Hridaan after the two filed for divorce earlier this year.
The former couple officially announced their split on December 14, 2013. Reports say that the famous celebrity couple decided to call off their 13-year-old marriage due to Sussanne's closeness towards family friend and actor Arjun Rampal.
After the official announcement, there were also rumors that Sussane had demanded Rs 100 crores as alimony.
Hrithik and Sussanne have been taking care that their split does not affect their children as both the parents have been spending time with their children as much as they can. Hrithik was in fact seen holidaying with his sons a few months back.
Also read: Sussanne and Hrithik Roshan had been living separately for over two months.