A Karan Johar discovery, the actor is making quite a mark as the new eye candy on the block.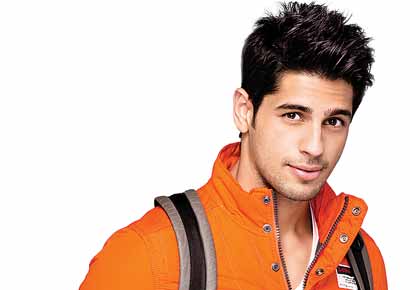 "No, I am not related to (designer) Manish Malhotra or (filmmaker) Punit Malhotra," clarifies easy-on-the-eye Sidharth Malhotra, whose surname often leads people to assume that he's from Bollywood. But his co-star, Varun Dhawan in the upcoming Student of the Year, is however convinced that Sid could just turn out to be the proverbial 'outsider' to make it big in filmdom.
Ask Sidharth, if he feels he's going to be eclipsed by his co-stars, who have strong filmi backgrounds — Varun is filmmaker David Dhawan's son, while Alia is Mahesh Bhatt's daughter — and he smiles. "It is natural for people to be more interested in them as they come with a certain history. But in the final reckoning, it's what you put out there on the big screen that's going to be noticed," says the newbie, who started off as a model in Delhi. He later auditioned for a film that Anubhav Sinha planned to make with newcomers. "I just auditioned for a lark, acting was nowhere on the horizon," recalls Sidharth. "The film got shelved when Anubhav got an offer to work with Shah Rukh Khan. By then, I'd been bitten by the acting bug," he adds.
Sidharth is amused at the coincidence of the events that unfolded later for him. "I landed in Mumbai, looking for work and ended up being the assistant director on Karan Johar's My Name is Khan (MNIK). Come to think of it, Anubhav and me coincidentally ended up working with SRK," he smiles. The newbie has warm memories of his interactions with the superstar, who'd advice him on acting or filmmaking even though he was an assistant director. But he'd end up as a hero one day... that too in his boss' film.
"When Karan told me that he's taking me in his film, my first reaction was 'Why?' It just seemed surreal — one day I was an assistant director in his film, and the other day, one of the heroes," laughs Sid.
So, now that it has sunk in, has the sense of competition also seeped in with the other hero, Varun with whom he's worked as an assistant director on the sets of MNIK. "No way," he drawls. "We have worked together, struggled together and are making our debut together. How can it affect our equation with a background like this?"
If Sidharth's a bag of emotions as days of the film's release is nearing he's not showing. Instead he'll have you in splits about the day he had to share the screen space with his favourite actress Kajol for the song Disco deewane. "You'd think we (Varun and I) felt like heroes dancing with her that day. But no, we ended up feeling like her assistant directors again," he grins. "Kajol just brings a different kind of energy when she's on the sets. That's star power!" adds the debutant, his eyes lighting up with wonder at the memory.