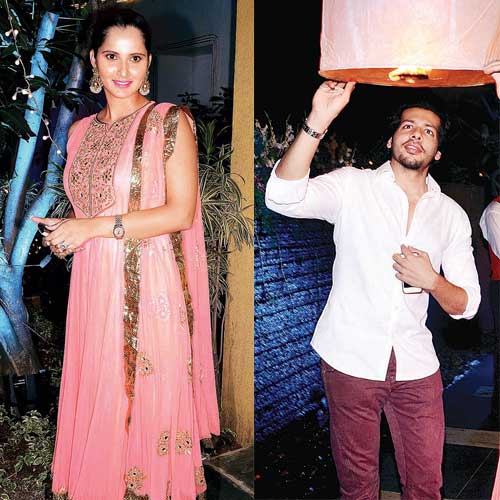 Tennis queen Sania Mirza created quite a stir when she made a late entry with actor Nihaar Pandya (best known as Deepika Padukone and Gauahar Khan's ex-beau)at Sachiin Joshi's Diwali bash on Saturday. According to guests at the party Sania was in the party mood and had a lot of fun with Nihaar and some friends.
Nihaar says, "I've known Sania for eight years. She is hugely entertaining. When you are with her you can't sit still on the sofa. Because she has you rolling on the floor in no time. I enjoy her company. Sania's husband was out of town.She decided to join me for Sachiin's party. We were there along with of my other friends."
Gauhar Khan's sister Nigarr had also accompanied Nihaar. "So it was Diwali fun," says Nihaar. Another surprise guest was Mrs Sanjay Dutt. Seen at a party just two days after her husband returned to jail , Manaayata Dutt was in the company of Shilpa and Raj Kundra.