Rouble Nagi will be conducting an art camp where underprivileged kids will learn and paint alongside celebrity children.
Known not just for her murals and sculptures, Rouble Nagi through her organisation ­— RNAF (Rouble Nagi Art foundation) — tries to reach out to less privileged children and help them discover their artistic skills.
The artist in collaboration with NGO Pratham, that works towards providing education, will conduct an art camp on February 24 at the Carter Road promenade, where slum kids will be taught alongside celebrity children.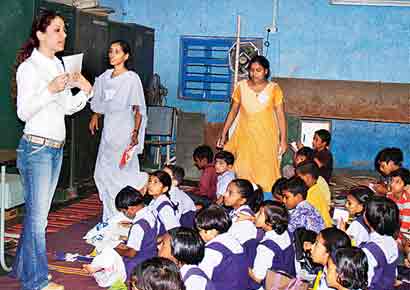 "The workshop will feature 300 youngsters from all over the city who will spend the afternoon learning, painting and mingling together. From these, 80 will be shortlisted for their creative skills and will be given special classes in their home area," explains Rouble, whose aim is to encourage them to do something with their lives.She believes that only by educating children, can the country grow.
"Through this camp, I want to interact with the kids and extract their inner talent. My friends such as Sohail Khan, Malaika Arora Khan, Rohit Roy and Sharman Joshi will also bring their children for the camp. There will be no disparity between the children and everyone will mix and learn together," adds the artist, who feels there should be a respect for all children.
The paintings by the kids made during this workshop will be exhibited later, in order to raise funds for a cause. Prizes will also be given to some of the best talents to further encourage them. "I'm really looking forward to it. Through my foundation we have always supported handicapped or struggling artists. I hope that this initiative, along with the help of my friends will create awareness about the bright, young talents in our country," she says.