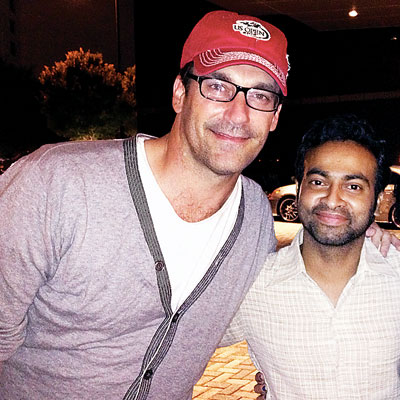 Pitobash is currently in Los Angeles pursuing a Hollywood career, post the premiere of his first Hollywood film Million Dollar Arm this weekend.
The young starry-eyed talented Indian actor is reeling under the impact. "It was the most amazing experience of my life. The premiere was held at Hollywood Boulevard. The entire cast and crew of the film plus many noted filmmakers and technicians were there."
Jon Hamm, the leading man of Million Dollar Arm who also stars in the smash-hit series Mad Men got the entire cast and crew of Mad Men to the premiere. Apparently, the hit series' director loved Pitobash's performance so much that he offered the young exuberant actor a role in Mad Men.
Speaking excitedly from LA Pitobash says, "I met the entire team of Mad Men. The serial is a crazy hit all over the world. Jon Hamm who is a good friend now, introduced me to them. They've invited me to their sets, and I'll be visiting them in the next few days."
After the premiere the film's co-producer Mark Ciardi invited Pitobash to a party at his home. "Mark's home is on the outskirts of LA. He had an elaborate after-party where I met the most amazing people. They all had such wonderful things to say about my performance." Pitobash is now stationed in LA for the next two months exploring the territory. "I'm getting an agent here. I don't want to miss out on this opening that I've got with Million Dollar Arm."