The awards ceremony saw a lot of action with actors tripping, dancing, posing and stuffing their faces!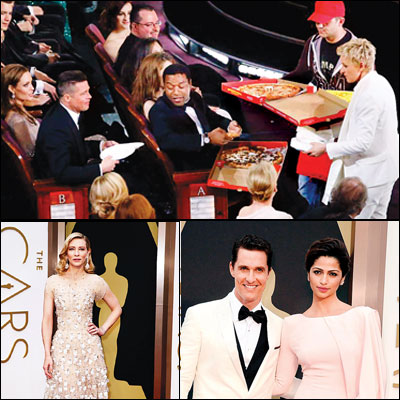 PIZZA FEAST
prestigious awards ceremony and greasy junk food like pizza generally don't go hand in hand. But host Ellen DeGeneres not only joked about ordering pizzas but actually followed through! She had a delivery man clad in a maroon hoodie passing out slices to the A-listers. Brad Pitt not only helped hand out plates but was also seen stuffing his face later. Meryl Streep took two slices, one for herself and one for her husband while Leonardo DiCaprio refused to indulge in the snack.
MOST RETWEETED SELFIE
The selfie fad is nothing new but Ellen managed to take hers one step further by not only getting the who's who of Hollywood in one frame but breaking all Twitter retweet records. She rounded up Meryl Streep, Julia Roberts, Channing Tatum, Bradley Cooper, Brad Pitt, Angelina Jolie and Kevin Spacey all in one selfie. Needless to say it became the most re-tweeted photo of all time with over 1.2 million retweets.
JLAW'S RED CARPET FALL
Jennifer Lawrence tripped while walking up the stairs to receive her award for Best Actress at last year's event. This time instead, JLaw stumbled and fell on the Oscars red carpet as she exited her limo. She grabbed on to a member of her entourage before she fell and was helped back up immediately.
SPEECHES & PERFORMANCES
As Jared Leto took the Academy Award for Best Supporting Actor for his role of a transgender woman with HIV in The Dallas Buyers Club he gave special thanks to his mother. Leto said, "In 1971, there was a teenage girl, who was pregnant with her second child, she was a high school dropout and single mom, but somehow she managed to make a better life for herself and her children… that girl is my mother and she's here tonight I just want to say 'I love you mom, thank you for teaching me to dream."
Ellen played the funny host and spared no nominee as she kept the audience in splits. She referenced Jennifer Lawrence's famous fall by saying, "If you win tonight, I think we should bring you the Oscar."
The night saw many starry musical performances like Bono and U2, Pink and of course Pharrell Williams who got Lupita Nyong'o, Meryl Streep and Leonardo DiCaprio dancing to his track Happy.
MAKING HISTORY
As the award for Best Picture went to 12 Years A Slave, history was made as it became the first film by a black director (Steve McQueen) to win in 86 years of the Oscars.
(Clockwise) Jared Leto accepts Best Supporting Actor award, Brad Pitt and Angelina Jolie look chic, Jennifer Lawrence before her red carpet tumble, Pharrell Williams gets Lupita Nyong'o grooving, the starry selfie and Sandra Bullock shone in blue.
Style highs and lows
The Red Carpet Scorcher: Cate Blanchett looked like an Oscar trophy herself in a champagne sheer, embellished gown. She opted for wavy hair and dainty danglers.
Brangelina fizzles: While Brad looked stocky, Angelina could have opted for a racier outfit instead of a sheer, sequinned Elie Saab gown. Sadly, there was no slit in the outfit!
Lady-like: Amy Adams wore a cobalt blue off-shoulder Gucci gown and opted for a slick up do. However, we felt Sandra Bullock's sweetheart neckline and pleated Alexander McQueen was a more potent cocktail.
Pleated to perfection: Lupita Nyong'o's pleated pale blue Prada gown was a knock-out. It beautifully offset her dark complexion.
Men who killed it
Matthew McConaughey was definitely the cynosure of all eyes in a Dolce and Gabbana suit, Jared Leto wowed with his pick of Saint Laurent tux and Pharrell Williams choice of pairing a pair of shorts with a tux won our vote of approval.
—Manish Mishra