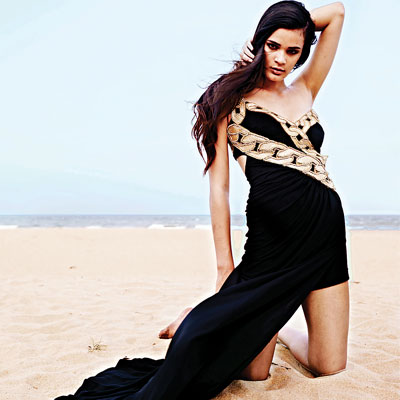 Trust the talented Monisha Jaising to wow the resort junkies with mind-blowing imagery! This time the veteran designer, who's loved for her placement-oriented surface embellishments, has derived inspiration from the bygone and opulent Mughal era and the frescos from the palaces built in the Baroque period to create her latest collection, which is a perfect mix of traditional craftsmanship and modern silhouettes.
The motifs that have been used reflect the intricacy of architecture of that period. Complete with ornate details and exuberant embroidery in golden hues, of the baroque age have been elegantly captured in this collection. The resort-wear echoes luxury, modernity, and comfort.
From digitally printed silk kaftans to solid coloured embellished maxi dresses with intricate embroidery. A spectrum of maharani pink, ivory, black, gold, banana and emerald green is seen in varying styles; pieces appropriate for brunch,pool-side, bar-side parties and evening. The queen of jersey has created the collection in luxe fabrics such as; silk, jersey, and stretch net.