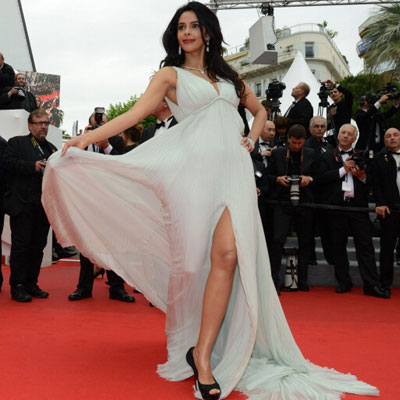 Mallika Sherawat, the actress who makes it hard for people to ignore her has been invited to Oxford University to a debate on gender issues.
"At the historic Oxford university, what a journey, Haryana to Oxford", the Hiss actress tweeted about her presence at the university.
At the historic Oxford university, what a journey, Haryana to Oxford . pic.twitter.com/GDXfVJaQ9Q

— Mallika Sherawat (@MallikaLA) May 27, 2014
The Murder actress who has barely made a mark in the film industry, Indian or international, has been cleverly creating photo-ops and other publicity opportunities for herself using bold outfits and statements alike.
In 2013, at the Cannes International Film Festival, the actress in an interview said that she found India as "a very regressive and depressing nation when the state of women is concerned".
This remark invited much scorn from top Bollywood actress such as Priyanka Chopra who even thought Sherawat's comment was an 'unfair one'. (Read)
The comment however turned rewarding for her as she was later invited to the debate titled 'This House Believes Gender Exists to Oppress' at Oxford Union in February this year.
An enthusiastic Sherawat had then said via a press release, "Yes, I have accepted the invitation. A lot of preparation is required. It's a great honour. I come from a small town, so it means a lot to be invited to speak at such an historic venue. I can use the platform to highlight issues like drop in the conviction rate in rape cases across the country."
Though she makes a valid point in her comment, the opportunistic ways in her past makes her an unlikely candidate for women around India to look up to her as an ambassador of gender equality.