All set to take you back in time with romantic tunes that you've grown up listening to, singer Kumar Sanu promises a performance that will be nostalgic and personal at the Alive — India in concert this evening.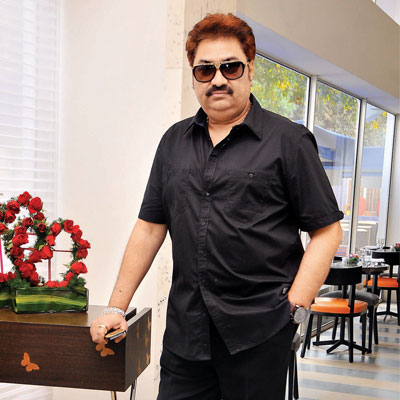 Tickets to his concert in the city today are sold out and starstruck fans can be overheard gushing about him and his songs. For those among us for whom Kumar Sanu is just a voice spilling out from an old tape, this is just a reckoner that nothing sells better than nostalgia. Ahead of the show, the Padmashree awardee sat down for a no-holds barred conversation that went somewhat like this...
A heart-to-heart with my fans
Today's concert is going to be a never-before-tried idea for me. It is going to be a live interview concert where the audiences will interact with me, they can ask me to sing any song, or ask me any questions — as long as the songs are the type I like singing and as long as the questions are related to my career in music, I will entertain them. This is an idea that I am experimenting with for the first time ever, and if it succeeds, I will try and replicate it in all my future concerts. Needless to say, I am excited about it because it is a new challenge for me.
People miss the sound of the '90s
Promoters continue to call me for shows because they miss the sound of the '90s. Frankly, if they wanted to listen to the music of today, the kind where you have singers shouting and screaming then they would have gone to them, but they invite me for concerts because they are nostalgic for music from the era of my time. You won't believe it but I am busier today than I was during the Aashiqui times. As a musician, my motto every time I do a concert is to roll back the years and take you back to the era of golden melodies from DDLJ, Saajan, Kabhi Haan Kabhie Naa, Phool Aur Kaante, 1942 — A Love Story...
Irresponsible Bollywood
I strongly believe that people in public life have a responsibility towards the society. People look up to you and follow you, be it your hairstyle and fashion or the way you lead your life, which is why I don't really appreciate the way Bollywood is working today. You have songs like Munni Badnaam and Sheila Ki Jawaani that are hits today. Can you imagine the effect it has on the public? Can you imagine young kids singing and dancing to these songs? I will partially blame Bollywood for the rapes and other sexual misdemeanours that are happening in the country today — audiences are practically following what we are showing on screen. Today, film producers and music companies are only worried about making money without lending a thought on the impact it leaves on viewers. I really wish better songs would be written. Bad lyrics are the reason why I refuse to sing songs today.
What I thought of Aashiqui 2's music
I thought the music was okay. All the songs sounded the same, had the same tonal quality. There was no versatility in the songs as compared to the songs in Aashiqui, where every single song, be it Ab Tere Bin, Saanso Ki Zaroorat, Nazar Ke Saamne or Main Duniya Bhula Doonga, was different.
Glad to be a '90s singer
(smiles) I am lucky that I sang in the nineties. I count myself blessed that I got beautiful songs that I could sing from the heart. During those years, music directors had a say in the singers they wanted to use for a composition. Today, it is the producers and music companies that decide whom they want to use, without considering if the individual is talented or not, and make a song a hit by relentlessly playing it everywhere. Today, you have Shah Rukh Khan dancing to Lungi Dance... what can I say? I just hope people realise the import and begin to make good music again.
Memories I'll always cherish
More than the events that have happened in my life, I remember the people I worked with. Working with RD Burman, Naushad, Kalyanji-Anandji, Bappi Lahiri, Nadeem Shravan, Dilip Sen and Sameer Sen, those are the memories I hold close to my heart.