The actor has turned producer and without any fuss is completing his first venture.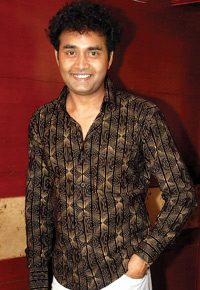 Sharan, popular for his comic acts, has now taken up a serious task. The actor has turned producer and without any fuss is completing his first venture. Titled Rambo, the film will have him in the lead. Barring Sundari Ganda Sadananda, Sharan has not appeared in lead roles.
Was getting into production his second attempt at emerging as a lead hero? "It is the script that I have invested on. If you want to call anyone the hero in this film, then credit that status to the story," he says. Going on to outline the plot, albeit reluctantly he says, "It is about a conman. He has a notorious past and is unapologetic about it. The fact that luck favours him every time further prompts him towards wrong doings. All is well until he gets caught in a situation he is in no way responsible for. The story revolves around how he gets out of it." But why is the film titled Rambo? "All I'll say is that it is a thriller garnished with humour," he says.
The story is written and directed by MS Sreenath. "The script was so tempting that I, without second thoughts, ventured into production. It all happened within a few hours. I heard the script and a common friend settled the price for it. And before we knew it, the film had gone on floors," adds Sharan.
Doesn't producing a film, given the current situation in the industry, not scare him? "Ideally it should have, but no, I'm not worried. Yes, there are possibilities of people asking what all the hype was about, but then the avid cinema-lover in me will still be satisfied that a film like this was made. So yes, ever since I have heard this script, somehow business has taken a backseat and passion the front seat."
The fact that some of the most popular actors have given their call sheets has also strengthened his belief in the script, says Sharan. Umashree, Tabla Naani, Sadhu Khokila, Dharma and Rangayana Raghu will be seen in pivotal roles. Madhuri and Deepika are the female leads. Sharan has also roped in his actor sister Shruti to play a major role. The last time they shared screen space was in the film Akka Tangi.
Krishna is the cinematographer and Arjun Janya the music composer. "My entire team has stood by me in my first production. Actor Tharun Sudheer has also been of great help. They are all working to ensure that my first journey into production is a smooth ride," he concludes. Rambo is being produced under the banner Ladoo Cinema House. It is up for a mid 2012 release.