Kamya Punjabi is all excited about her character comeback in a TV serial as she is about starting a family.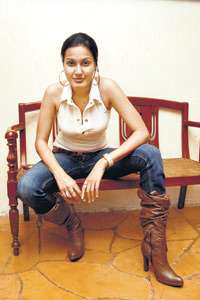 It seems that actor Kamya Punjabi is looking at life from a new angle. The actor who has got back to her estranged husband Bunty Negi, is planning to start a family now.

"This has been long overdue. As Bunty and I are together again, I am thinking of starting a family. In our industry, most of the actors don't become a mother thinking of their career, but I am not one of those. I am not very ambitious in life and I want to live like an ordinary human being. I always wanted to get married, have kids, chill out. So, I guess this is the time to implement the plan," she says.

Kamya has just returned from a long vacation with her husband. She has visited the US, Dubai, Bhubaneshwar, Delhi and Shimla, among other places to spice up her married life. "After my character died in Banoo Main Teri Dulhann (Zee TV), I needed the much desired break. I guess, the travelling together part has brought us really close," she adds.

On the work front, she is making her much anticipated comeback to Dulhann. Going by the popularity her character, Sindoora, enjoyed, needless to say she is very excited. "Sindoora has been hugely popular with audiences and I am on top of the world thinking about the comeback of my character."

Once upon a time Banoo Main Teri Dulhann used to be the numero uno on general entertainment channel in terms of TRPs. However, with reincarnation the spark fizzled out. To add to the disaster, Sindoora was killed. "Sindoora's death was a huge blow to our show and then Balika Badhu arrived. I am sure the TRPs will go up now. At least the track in the show will be spiced up so that the audiences have a great time like they used to have earlier," she says.

Kamya, despite being popular, stayed away from doing too many shows. "I don't want to do multiple shows at the same time. I want to concentrate on one show at a particular time so that I can give my best. I get a lot of offers, but I just turn them down. All the shows are nothing extraordinary. I never did comedy, so I took up comedy circus. But, now a lot of comedy shows are coming my way which is not making any sense. I am happy with my little possessions," she signs off.