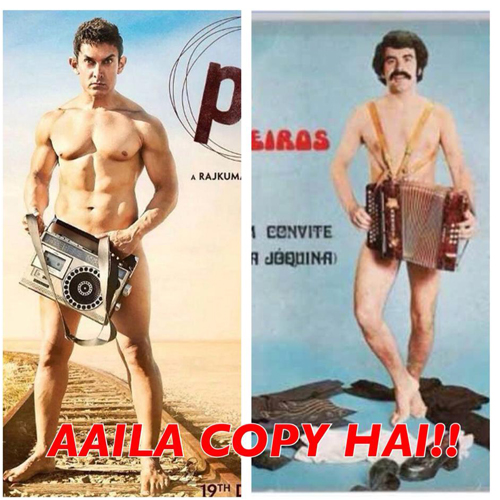 After the PK team decided to release the first look of the film on Friday, Aamir Khan and his bold move of posing in the buff have become the talk of town.
With jokes and memes all over the web, the movie poster created quite a stir with its nudity quotient. But now it seems that Aamir Khan is not that much of a perfectionist! The PK poster seems inspired or rather copied from a poster, which was released by a Portuguese musician named Quim Barreiros way back in 1973.
The musician had released the poster for his album's promotions where he uses an accordion to hide his private parts. In his PK poster we see Aamir Khan pose the same way behind a stereo system.
Check out the poster of PK here.
This is not the first time Aamir Khan's film's poster seems to have been inspired by other posters. Previously, his Dhoom: 3 poster seemed like an exact copy of the Dark Knight poster. It seems like Aamir now wants to be a perfectionist copycat!