Nothing spells drama like the intensity of a war. Bollywood has over the years, churned out a number of stories set against the backdrop of wars fought by India. On the occasion of Independence Day, we revisit five memorable Bollywood war films that kindled a sense of patriotism as well as portrayed the tragic reality of war.
Border (1997)
Considered as one of the best war movies in Bollywood, Border is set against the background of the Indo-Pak war of 1971. Starring Sunny Deol, Sunil Shetty, Saif Ali Khan, Akshaye Khanna, Jackie Shroff, Pooja Bhatt and Raakhee, this movie was directed and produced by JP Dutta. The characters depicted the battle of Longewala extensively, where 150 soldiers of the Punjab regiment successfully defended their post all night against a whole regiment of the Pakistani army.
LOC Kargil (2003)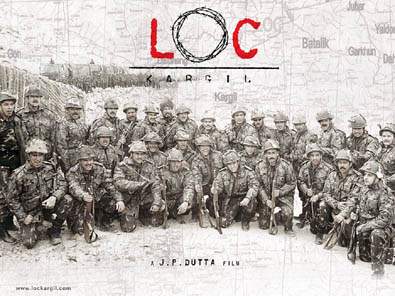 Again a JP Dutta scripted and directed movie, LOC (Line of Control) Kargil was the depiction of the Kargil war between India and Pakistan. The war scenes are majorly placed on Operation Vijay and Battle of Tololing in the 1999 Kargil War. The cast included a number of Bollywood actors like Abhishek Bachchan, Ajay Devgn, Sanjay Dutt, Saif Ali Khan, Akshay Khanna, Manoj Bajpaye, Rani Mukherjee, Kareena Kapoor, Esha Deol, Raveena Tandon etc.
Lakshya (2004)-
Karan Shergill (Hrithik Roshan) and Romila (Priety Zinta) became inspirational movie characters thanks to the film Lakshya. Karan, who has no ambition in his life becomes a Lieutenant and later a Captain of an Indian army regiment. This movie is set against the background of the Kargil war, where Karan is fighting the Pakistanis and Romila is the war correspondent. Directed by Farhan Akhtar, the movie also did well at the box office.
Tango Charlie (2005)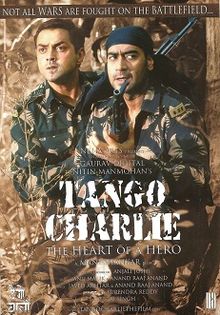 Starring Ajay Devgn, Bobby Deaol and Sanjay Dutt, Tango Charlie is a war-fiction story directed by Mani Shankar. The plot follows the character Tarun Chauhan's (Bobby Deol) journey from a young army recruit to a war-hardened fighter in the Indian army. The film presents the idea that real soldiers are not born, but bred.
1971 (2007)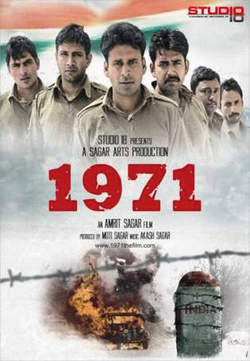 Directed by Amrit Sagar 1971 is the true account of the prisoners of war of the Indo-Pak war of 1971. The movie has Manoj Bajpai in the lead role and is considered as one of Bollywood's underrated movies. It won the National Award for the best Feature Film in Hindi.