Sajid Nadiadwala talks about launching Jackie Shroff's son in his directorial debut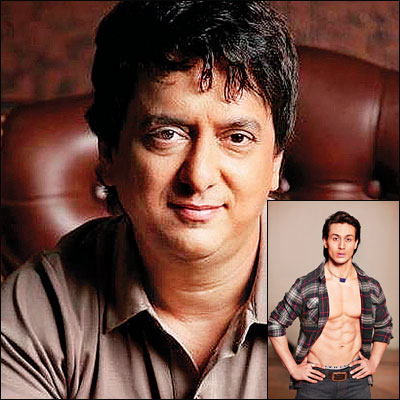 With Jackie Shroff's son Tiger poised for a debut in Hero-panti on May 23, producer Sajid Nadiadwala who is busy with his own directorial debut Kick, feels as responsible towards Tiger as any parent.
"It's a very strange mix of parental pride and a teacher's concern.I've been part of Tiger's life from the time he was a child. I was there when he was born. Luckily I'm also part of his second birth, when his career takes off. So you could say I feel a double responsibility towards Tiger."
Beginner's luck
Sajid has never felt so nervous about any of my films before. "Tiger is the first actor I'm launching in my entire career as a producer. That he's being launched during the same year when I make my debut as a director gives me ann added feeling of identification with Tiger. I know what he must be going through," says Sajid with a nervous laugh, dismissing the contention that being his father'son would help Tiger get a larger audience.
"I don't think audiences today are sentimental about the stars. Of course there would be certain sense of identification with Jackie Dada because Tiger is his son in every way. But let me tell you, Tiger does his own thing on screen. After audiences see Tiger they'll realize that the father and son are two different actors," he says.
Tiger tales
Sajid, who is deeply impressed by Tiger's dedication, says, "Tiger is exceptionally hard working and disciplined. He starts his day early, does martial arts religiously.You won't see him partying and lazing around. For Tiger, leisure is not a luxury .It is part of his work. He is most relaxed when he is working." When asked to rate Tiger as an actor Sajid says, "According to me he is a complete star material. He fills up the screen with self-confidence. I can sense his urgent need to do his best in every shot, Tiger can't go wrong."
Ready to rock
2014 is the year when Sajid Nadiadwala producer his most acclaimed work. He feels Hero-panti has the same potential as Highway. "When I agreed to produce Highway my director Imtiaz Ali wanted it to be a stop-gap film to be made in the period when the film that he wanted to do with Ranbir Kapoor had to wait for lack of dates. But we all forgot a film by Imtiaz Ali can never be perceived as stop-gap. The audience accepted it wholeheartedly. I feel Hero-panti too has a similar destiny waiting for it. We've gone all out to ensure Tiger has the best possible launch. I feel as responsible about Tiger's career as I would about my own son"