TV VJ  Kanwal Toor makes her filmi debut in 'Cheeni Kum'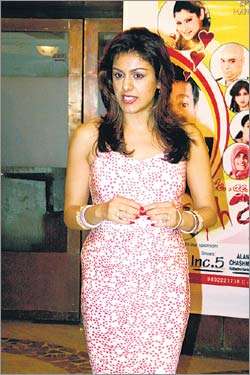 TV VJ Kanwal Toor makes her filmi debut in 'Cheeni Kum'
Vivacious VJ Kanwal Toor ,hostess of 'Filmi Fever' ( Zoom) and former Miss India finalist will soon be making her Bollywood movie debut with her brief role in Sunil Manchanda's 'Cheeni Kum' which pairs Amitabh Bachchan with Tabu for the first time. "It looks as if I have finally been struck by the filmi fever," she says.
"The director Balakrishnan has cast me as a close buddy of the heroine Tabu. My role is that of a kabab mein haddi as I don't approve of Tabu being enamoured by Bachchan's character because I just don't like him," laughs perky Kanwal.
"Interestingly, when I was introduced to Amitji, it was he who broke the ice and complimented me for my vibrant anchoring of 'Filmi Fever'. That really 'floored' me. Contrary to his 'reserved' image, I found Amitji very casual and friendly, "reveals Toor.
Was it true that she declined lucrative offers for acting in the saas-bahu soap TV sagas? "I don't find myself fitting into the melodramatic soap operas. Maybe if there is an exciting comedy, I may consider the proposal. Besides, I am not cut out for shooting non-stop for 21 hours a day for these daily soaps," shrugs the ramp model.
Kanwal is cast as the seductive, savvy hi-society escort babe 'Menaka' in a wacko comedy play 'Ae Ae Ae Phansaa' directed by Nasir Khan. "This stage-craft will be the third dimension to my persona after dabbling in TV and movies. I am looking forward to hearing the cheering applause from audiences when I am actually 'acting funny', she signs off.