Today, May 4, Sunday, marks the 85th birthday of Hollywood icon Audrey Hepburn.
Google celebrated the event in its characteristic manner, with a Google Doodle dedicated to the star.
Hepburn worked in the Golden Age of cinema and has been repeatedly listed by the American Film Institute as one of the greatest female screen legends of all time. The actresss was known for both her resplendent beauty as well as her dedication to humanitarian causes. Her role in Roman Holiday was the first time an actress received an Oscar, a BAFTA and a Golden Globe for a single performance. She died an untimely death because of abdominal cancer in 1993. In honour of the legendary actress and humanitarian, here are five feel good movies you should consider indulging in today to give yourself a break from the infinite expanse of elections and scandals you're being made privy to on a daily basis.
*Funny Face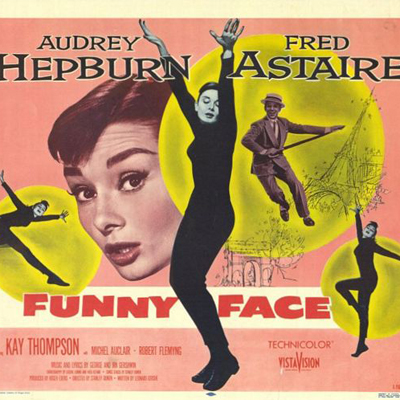 In this remake of the Broadway musical Hepburn stars with Fred Astaire to tell a romantic tale that is charming and yet critical of idolising and false presumptions. Hepburn plays the part of an introverted amateur philosopher Jo Stockton who is initially critical of Astaire and him photographing her as a fashion model but eventually warms up to him and quite predictably the two fall in love. The plot line greatly differs from the broadway version but it must be given a chance for the music and surprisingly entertaining performance from supporting cast member Kay Thompson.
*Paris When it Sizzles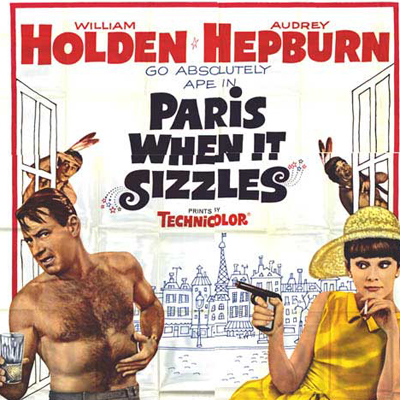 If yo u never thought Hepburn and self-referential humour are not really the easiest pair to find, the search ends at this gem of a film. The pairing between Hepburn who plays a fiery secretary to an artistically clogged screenwriter played by William Holden, she helps inspire his next hit by bringing to life a number of scenarios which also include countless references to both Hepburn's and Holden's previous works.
*Wait Until Dark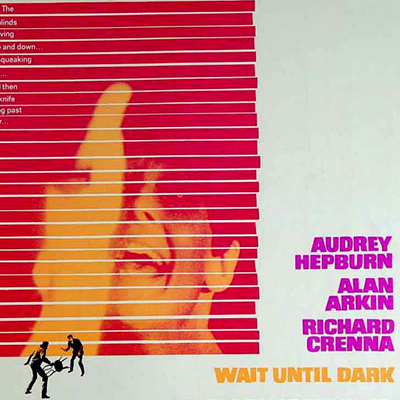 So perhaps not all Hepburn's movies were the vanilla showered romantic tales we expected. The 1967 adaptation of a play of the same name, the movie deals with far darker themes than most of her other work considering the plot revolves around a doll stuffed with heroin hidden in Susy's (Hepburn's) apartment. She plays the blind wife of a man who is unknowingly dragged into a plot to recover the drugs and whether or not she fends off the men trying to enter her home is what the plot is centred around. Not one of her best known works, watch it just to get some idea of the actress' versatility.
*Sabrina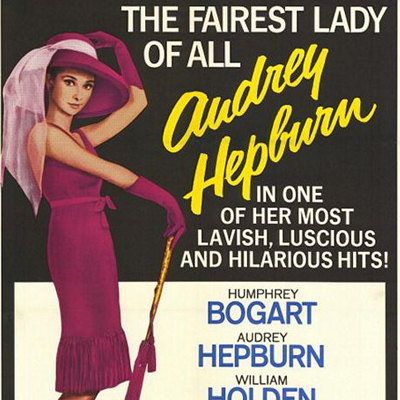 An adaptation of the play 'Sabrina Fair' Hepburn plays the daughter of a wealthy family's chauffeur who eventually grabs the attention of the family's two eligible sons. Co-starring Humphrey Bogart and William Holden the exchange of affections between the three undergoes a number of changes before the movie's climax where in an out-pour of emotion, Hepburn and Bogart sail off into the sunset. On a ship. Try to not feel jealous and enjoy the fantasy.
*Breakfast At Tiffany's / Roman Holiday / My Fair Lady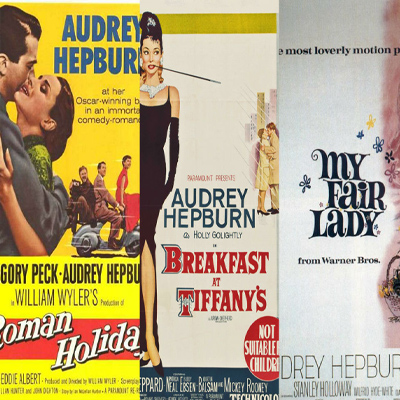 No explanation needed for any of the three. Her most popular and claimed by many to be her best as well, these three are universally adored and regarded as some of the best made films to date.