The talented director tweeted about the veteran actor passing away last night, and later apologised for his mistake

Anurag Kashyap found himself in an awkward situation after he tweeted about legendary actor Dilip Kumar last night. "Two deaths today…Ajay Jhingran and now Dilip Saab. Something else died too..Shittiest day ever…" posted the Gangs of Wasseypur director. However, Mr Kashyap took to the micro blogging site again to apologise for his tweet as the 90-year-old superstar Dilip Kumar is stable and recuperating. "Apologies for the Dilip Saab tweet. I panicked because of three back to back messages. He is fine and the news is not true" wrote Anurag to clear the air about his Dilip Saab's tweet which now has been deleted. Last year, B-town actor Shreyas Talpade was caught in a similar situation when he tweeted about Balasaheb Thackery's death.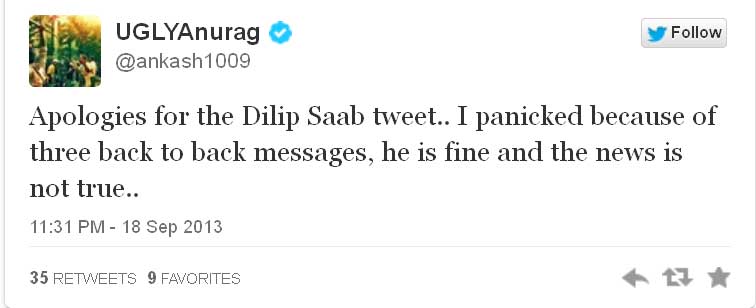 Dilip Kumar was admitted to Mumbai's Lilavati hospital on Sunday following a heart attack. His wife Saira Banu while talking to media today said, "He is recovering. This morning he got up and had tea. He needs to rest. I thank all the fans and well-wishers for their prayers and request them to continue with it."
Read original story on bollywoodlife.com where it was first published.