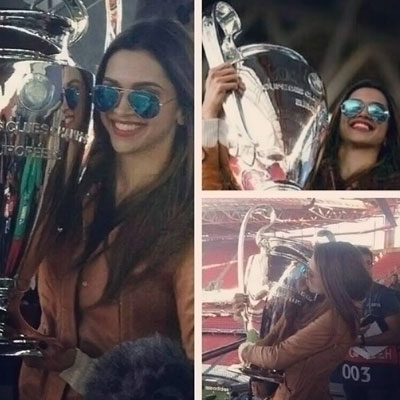 Deepika Padukone seemed to have a blast yesterday at the UEFA's Champions League final on Saturday.
She was the honorary guest at the event and enjoyed every moment at the finals. The dimpled beauty attended the match between Real Madrid and Atletico Madrid and rooted for the latter.
Though Atletico lost the match she was still seen grinning and holding the cup like a true winner. Lifting the cup, the actress exclaimed, "It feels like a two-three year old baby... a heavy baby!"
The former Badminton champion said to a sports channel, "It's overwhelming, it doesn't get bigger than this. Champion's League is one of the biggest tournaments and it's a wonderful feeling."
She added, "I've been an athlete myself, and football is one of the sports that I'm learning about now... obviously we all know that back home in India, cricket is the sport that everyone follows and that's kind of the sport that I've grown up watching. But I'm surrounded by friends now who're obsessed with football, and I'm happy to be here and go through this experience."
The leggy actress claimed that she found Real Madrid player Cristiano Ronaldo to be the hottest football star.