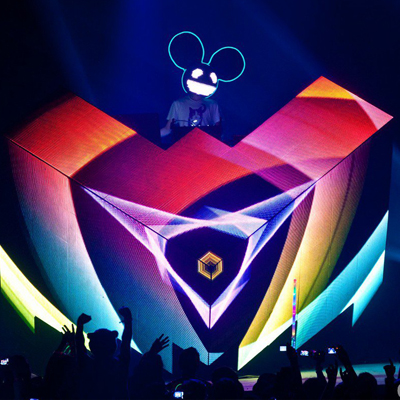 Joel Thomas Zimmerman better know by his stage name deadmau5, is all set to come down to India for the very first time. His music which consists mainly of progressive house genre has enthralled many audiences worldwide. deadmau5 produces a variety of styles within the house genre and blends them beautifully with other forms of electronic dance music, forming his own unique mix of the rapidly growing Electronic Dance Music (EDM) genre.
His debut album 'Get Scraped' was released in 2005, and since then he has become a global phenomenon with his name becoming synonymous with EDM. Although his primary releases are solo, he has worked alongside a number of top people in the industry including such as Kaskade, MC Flipside, Rob Swire of Knife Party and Pendulum, Wolfgang Gartner, Bighorse. deadmau5 frequently collaborates with Melleefresh as well.
Deadmau5 is being brought down by Sunburn Arena, an initiative that has been inviting some of the biggest names in the EDM scene, the most recent international names being Swedish House Mafia, Hardwell, Nicky Romero, Dash Berlin and Avicii. Like the global concerts that take place in the UK and the USA, Sunburn Arena has been paving the way for these kinds of concerts to grow and make their mark in India. Much of the allure of these shows centre around the amazing DJs of course, but also on the audio visual presentation, and the enormous turnout that the DJs bring in.
Dates of the event:
Mumbai - March 14, 2014
Bangalore - March, 15 2014
Delhi - March 16, 2014
Many fans of the award winning DJ deadmau5 voice their excitement over social media, eagerly awaiting the concerts set to take India by storm.
@SunburnFestival My sisters Earring #SpotTheMau5 #deadmau5Mum pic.twitter.com/o046FYzdnH

— Joannes Pereira (@Joannes_pereira) March 9, 2014
I can literally feel butterflies in my tummy :O @Fullstop_ent #deadmau5Mum #FullStopEnt

— HeӎankƧhi Bhanushali (@HemankshiC) March 9, 2014
@Fullstop_ent #deadmau5Mum #FullStopEnt Fingers crossed ! pic.twitter.com/EcGfS8KSHb

— GinelleVincent (@ginelle94) March 9, 2014
@Fullstop_ent i m super excited ! #deadmau5Mum #FullstopEnt

— Anup cfc (@anup12_u) March 9, 2014
With the mau5mobile! #SpotTheMau5 #deadmau5India @SunburnFestival pic.twitter.com/gU8L41Ins4

— Vishakha Acharya (@vishakha_a) March 8, 2014
Got totally bored in college today..so why not draw @deadmau5 ...this is for u #deadmau5 #deadmau5India . pic.twitter.com/nVkRrODUT3

— Shanky Aka Bharat (@AllBeastNoHype) March 4, 2014
People are literally going cray cray crazy for @SunburnFestival w/ @deadmau5 @deadmau5ind #deadmau5India #DalerMau5 pic.twitter.com/oxADeZql1V

— harsh manchhani (@always_harsh) March 4, 2014
@SunburnFestival @deadmau5 #SpotTheMau5 #SunburnArena #Mumbai pic.twitter.com/kU4E7hl9EU

— Varun (@VarunS313) March 9, 2014
#SpotTheMau5 Epic! @deadmau5 @SunburnFestival pic.twitter.com/hx4PMzprX6

— Siddharth Mapara (@sid_mapara) March 9, 2014
The tickets are priced as follows -
Mumbai - Mahalaxmi Race Course: Mumbai Keshav Rao Khadye Marg, Mahalakshmi, Mumbai, Maharashtra, 400013
Rs 3250 - Rs. 6000
Bangalore - upernova Arena, Yelahanka Century Avenue, Off Airport Road, (Behind Canadian International School) Nitte Meenakshi College Rd, BSF Campus, Bangalore, Karnataka 560064
Rs 2700 - Rs. 5000
Delhi - Buddh International Circuit: Jaypee Sports City YEIDA, Sector 25, Gautam Buddha Nagar Along Yamuna Expressway Greater Noida, Uttar Pradesh 201303
Rs 3250 - Rs. 6000