With the enormous physical expansion it does change the way people live in the city, says the controversial author.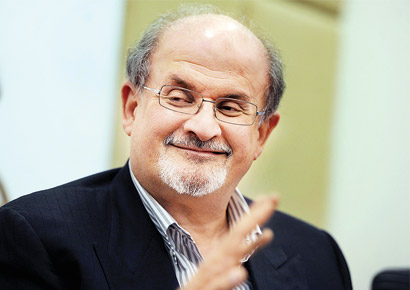 Author Salman Rushdie on the city he grew up in and what keeps bringing him back. Excerpts from interaction:

The Bombay you grew up in and the Mumbai of today is different...
Partly. It looks like a city that's been built on top of another. So while driving on a flyover, you can see little bits of the old city! In The Moor's Last Sigh, I was tried to write about the change in the Bombay I grew up in to the now existing Mumbai, and I do think it is a very different city. With the enormous physical expansion it does change the way people live in the city. It's a much harder city to live in now. When there were no flyovers there were less traffic jams, there were lesser cars of course.
The city seems to have grown physically and emotionally...
I shock people when I say this but there was not one high rise building when I was growing up. It was all low rise bungalows and when I was about 12 or 13 the first high rise building went up and we would call it a match box house, because it looks like a match box standing on its end. We use to poke fun at it, saying look at that ugly thing, who would want to live in that ugly thing? And the answer is everyone! (Laughs).
But you still consider the city your home?
Yes, it still feels like home because I have a lot of friends here. Bombay is always the city rooted in its people. It is not about the place. There are more beautiful cities than this one. But this one has always had people here I love. I don't have family here anymore but I do have friends.
What else has changed?
The people in Bombay haven't changed. The Partition riots did not happen here; every time Delhi was in trouble it was not happening in Bombay. And then it started happening here too. 1993 was the turning point, and that part of the character of the city has changed.
You have been the poster boy of liberals everywhere, you annoyed the fanatics and lived to tell the tale...
It is better now. It was a bad time and now that Joseph Anton is out, everyone knows how it really was. When the storm ends, you can enjoy the work. That's what I feel about Satanic Verses that now that it is so much calmer, people can read and enjoy the novel. And then readers can have the responses to the story.
It was a difficult time for you...
The answers to all this questions are in that big fat book (Joseph Anton)!
Coming to another book that caused ripples for other reasons...
Midnight's Children is based in India and it very important to understand the people's reaction. The fact that people here received the book so warmly is what matters more to me than all these prizes. What is interesting is the way it is received. When it came out in the West, people there responded to the fantasy element, but people here responded to the historical element. There it was a fable here it was a history book. The book was born here in India.
What is it about Midnight's Children that still appeals 30 years later?
There are these enormous range of women characters in the book, though not all have been taken into the movie. When the book won the Best of the Booker, the Booker Prize had been judged by a panel of judges, But the Best of the Booker, which was the 40th anniversary prize, was chosen by online voting. And when we broke down the vote count, I got to know that a very young audience voted for the book.
There were these people who weren't born when this book came out but they still voted for it. And that was very touching. Because this means that it is speaking to another generation. This is what every author hopes for. Every author wants his or her book to speak to generations even after it is written. Quite a few people who have watched the film in the first screenings have said that they have felt that it was contemporary, and it doesn't feel like a period piece which it actually is.
What are your thoughts on the book being adapted for the big screen?
I was delighted. It had been such a long time since I wrote the book. When I went to see the film at the Toronto Film Festival, it was absolutely beautiful. The look of the film was amazing. I had not been on the shoot, so when I got to see the film I was amazed.
How difficult was it to write the screenplay?
It's a two hour-fifteen minute movie while it is a 600-page novel so it took a lot of time. The script began much too long. The first draft was 250 pages, and that would have been like a four-and-a-half-hour movie. So to go from that to 120 pages, it was a long process but what I found interesting, as somebody coming back to the book after a long time, it was to say where the heart of the book is. What is the story we have to tell for it to be a film. I needed to find a clear story line, not find one that goes through without complications. The advantage of writing the screenplay was that the novel already existed so I did not have to make up any characters. The advantage of writing the screenplay was that the novel already existed so I did not have to make up any characters. I found it very pleasureable.
Two strong-minded people coming together for something of this magnitude, were there any differences in opinion?
Of course there were, but both of us speak our minds and that helped us out a lot. We both have this way of saying it straight out and so we were able to talk. We never yelled at each other, we can start though (laughs). Yes, we differed, Deepa wanted to rearrange, and I wouldnt agree, but then I said lets try it. We did a lot of trial and error.
—Transcribed by Kaushani Banerjee