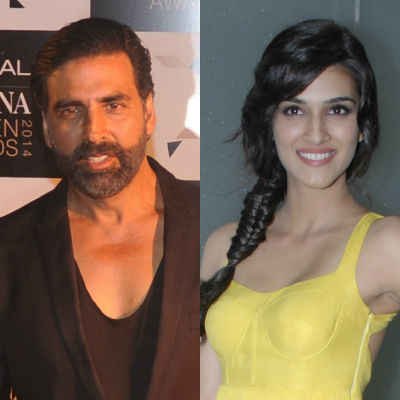 Akshay Kumar who is celebrating the success of his latest film 'Holiday: A solider is never off duty' is now going to be seen romancing the new comer Kriti Sanon who debuted in the latest film 'Heropanti' opposite Tiger Shroff.
Kriti Sanon is still high on the success of her debut film and has already bagged in her next film opposite the super star Akshay Kumar.
A source revealed that Akshay liked Kriti's work in Heropanti and suggested her for the role in Singh is Bling. Flimmaker Prabhudeva who initially wanted Kareena Kapoor to star opposite Akshay Kumar is happy to cast a fresh face.
The action-comedy film takes off in November and will be shot in Cape town and other exotic locations.
Contrary to the belief, the film is not a sequel to the 2008, Singh is King. The only similarity is said to be Akshay Kumar playing the role of a Sikh person.
The Singh's fascination of bling can be seen in the poster of the film where Akshay is seen holding a golden gun, wearing a golden sequenced turban and wearing lot of bling golden accessories.
Priyanka Chopra too was asked to star opposite the Khiladi but later Kriti was finalized.
Kriti recently signed a major cola brand which was previously advertised by Priyanka Chopra. Seems like Kriti replaces PeeCee again.
Playing the role of a dancer the tall and slim actress is perfect for the role with her dancer-like physique and her impressive moves. Sounds unusual but it would be good for a change to watch Akki star opposite some other actress than Katrina Kaif and Sonakshi Sinha.
What the audience thinks about this pair will only be known after the film's release.