The courageous actress did not hesitate to work with wild animals and took everyone by surprise.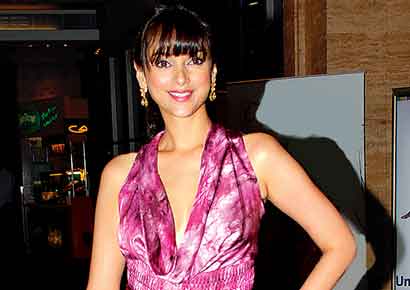 Actress Aditi Rao Hydari seems to have taken her fondness for animals to another level. She was nick named dare devil while shooting for Murder 3 as she did not hesitate to work with the wild animals such as cheetah, python and giraffe. The crew was very apprehensive about asking her to pose and act with them, but Aditi went all out and shot with them without any fear. Infact she even played with them off the sets.
Aditi, on the other hand, took the whole shoot in her stride. "Just being around animals is special, and natural predators are all the more exhilarating, When I was around them I was cuddling them like they were my pets and it was the best day of my life," she smiles. And the crew's reaction actually took Aditi by surprise. "But when I heard people's reaction on the sets and they came up to me to congratulate me, I realised that they considered it an extraordinary feat. To me it was just an extension of my love for animals and the wild," she says.
She even took the animal trainer by surprise with her guts. He praised her and said that it was rare to find someone who is not intimidated by the sight of wild animals. Guess, Aditi has mastered the call of the wild.