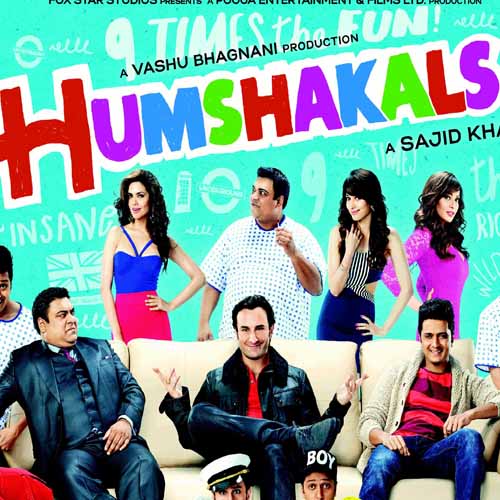 The multi-starrer upcoming comedy film 'Humshakals' releasing on 20th June promises to be nine times the fun because of the triple role played by the lead actors.
Here are nine interesting gossips from the set of the film.
1] Kareena Kapoor taught Saif Ali Khan to pout for 'Humshakals': Saif Ali Khan who is seen playing the role of a woman in this film revealed that his diva-wife Kareena Kapoor Khan shared tips and helped him with his pouts n posture
2] Saif Ali Khan and Riteish Deshmukh play a prank on Ram: After the 'buttering up' sequence in the film, Saif and Ritesh asked the crew to hide all the soaps n face-washes not allowing Ram to remove the greasy butter from his face.
3] Saif Ali Khan mimics father-in-law Randhir Kapoor in 'Humshakals', says it's his way of honouring him: A lot of stars have been mimicked in the film. Saif believes imitation is the highest form of flattery, and this is a way of honouring him.
4] Tamannaah Bhatia helps out 'Humshakals' co-star Esha Gupta: Tamannah was seen extending a helping hand towards Esha on the sets and helped her fix her maang's tikka. Very few women have been seeing bonding on the sets of a film seems like all os well between these co-stars.
5] Tamannaah lost 5 kg for 'Humshakals': With the help of the famous dietician Pooja Makhija, Tamannah lost 5 kgs for the role and is now fond of staying healthy.
6] Similarities between Sajid Khan's 'Housefull' and 'Humshakals': The similarities between the songs 'Barbaad Raat' (Humshakals) and 'Papa Jag Jaega' (Housefull) are very prominent as both these songs display the actors dancing on the songs in their night dress. As also the appearance of Chunky Pandey previously as 'Aakhri Pasta' in 'Housefull' and now as 'Karan T Bijlaani' in 'Humshakals'.
7] The song 'Khol De Dil Ki Khidki': The extremely hilarious video has rare combo of Sajid Khan, Himesh Rehammiya & Mika.
8] Esha Gupta turns on the heat with car wash act in the film: In a club number - 'look in to my eyes', the sexy actress sets the temperature soaring high in the car wash act as she tries to Saif Ali Khan.
9] Riteish Deshmukh took one and a half hour to dress as a woman: On a reality show Sajid Khan disclosed that Riteish took longer than the actresses to dress up as a women.