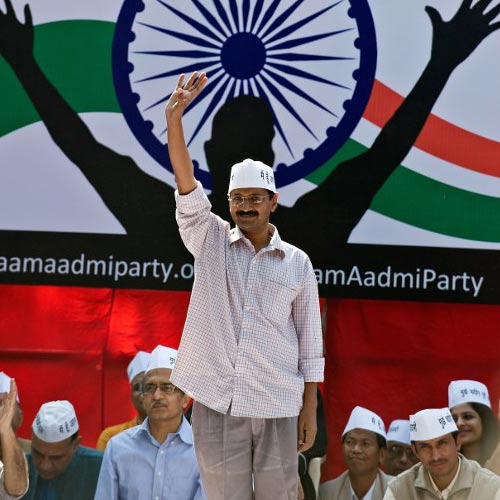 Chief Minister Arvind Kejriwal today said a "robust" system is being put in place to probe allegations of corruption in various government departments and maintained that a Jan Lokapal Bill will soon be brought to root out graft.
The Chief Minister, after a meeting with top officials of the Vigilance Department, said a helpline will be launched by Thursday to facilitate citizens to file complaints of corruption and other irregularities against government officials.
Kejriwal said the government is also preparing a draft of Swaraj Bill and will implement it by January-end.
During the meeting, Kejriwal reviewed the functioning of the unit which probes allegations of graft in various government departments.
"The helpline number will be launched by Thursday. I have announced from Ramlila Ground during the oath-taking ceremony that a helpline number would be started to register corruption complaints and catch officials seeking bribe red-handed.
"Since then, we have been working on it and now the system is ready. Besides that, some officials have been given training", Kejriwal told reporters after the meeting.
Kejriwal reiterated that the government will pass Lokpal Bill at a special session of the assembly at the Ramlila Ground.
"We had a discussion over Lokpla bill today. We are trying to prepare a preliminary draft and we are on the track. We will pass Lokpal Bill at Ramlila Ground." On Swaraj Bill, he said "in the next 10-15 days, we will prepare the draft of Swaraj Bill as well. We will try to pass this bill by January-end."
Expressing his concern over the vacancies in the state Vigilance Department, Kejriwal said he has raised the issue with the Lieutenant Governor and the Delhi Police Commissioner in this regard.
"Officers from Delhi Police join the Vigilance Department on deputation . There is a sanctioned strength of 30 police officials but only 11 are posted," Kejriwal said.