Sheila Dikshit, Delhi's chief minister for 15 years, resigned after the Congress was routed in assembly elections, with she herself set to lose to Aam Aadmi Party (AAP) leader Arvind Kejriwal. Dikshit submitted her resignation to Lt. Governor Najeeb Jung as vote count showed that the Congress may not win even a dozen seats in the 70-member assembly.
Not surprisingly, the wave of change has started with Delhi witnessing a Congress rout after 15 long years.
BJP became the biggest party with most number of seats, with Congress pushed from first to third place by an impressive debut from the anti-corruption Aam Aadmi Party.
BJP won 31 seats with AAP close behind at 28 seats. Congress managed to grab only 8 seats.
The fate of 810 candidates for the 70-member Assembly will be decided today.
Delhi Assembly election result is being seen as an indicator of the mood of the urban electorate ahead of the general election.
Samajwadi Party's Naresh Agarwal urges BJP or AAP to take charge of Delhi
Also read: With hung house in Delhi, all eyes on Lt Governor Najeeb Jung
Suspense over new government in Delhi persists
Live updates:
10 pm: BJP on Monday stuck to its position of not seeking to stake claim to form the government even though it emerged the single largest party in the assembly polls, saying it did not have the mandate to provide a stable dispensation. Read more
Delhi MLAs low on educational qualifications, say reports
9.26 pm: Slamming the Aam Aadmi Party (AAP) for making "unrealistic promises" during elections in Delhi, BJP on Monday challenged it to form a government with Congress support instead of avoiding power and fulfil its "exaggerated and unimplementable" manifesto. Read more
Also read: Bhartiya Janata Party unlikely to make any attempt to woo Aam Aadmi Party MLAs
9 pm: A day after its dream poll debut in Delhi, Aam Aadmi Party (AAP) was on Monday variedly praised by some political parties as a force good for the health for democracy and one that could provide a "credible alternative". Read more
8.20 pm: The 28 newly elected legislators for the Delhi Assembly of the Aam Aadmi Party today formally chose New Delhi MLA Arvind Kejriwal as their board leader. Read more
8 pm: They sold dreams, Sheila Dikshit said on Monday about Aam Admi Party (AAP), a day after Arvind Kejriwal's new party toppled her after three terms as Delhi Chief Minister. Read more
7.30 pm: Nitin Gadkari BJP leader Nitin Gadkari told reporters that the BJP's elected MLA's will meet on Tuesday to formally elect Harsh Vardhan as their Chief Ministerial candidate.
"Dr Harsh Vardhan will be declared the BJP's CM candidate tomorrow. We will then meet the governor. After that we will decide what course of action we should take," said Gadkari.
5.35 pm: The responsibilities now are scary, admits Kejriwal And finally, Kejriwal admits that the responsibilities and expectations on him and his one-year-old party are frightening. "Once a rickshawala gave me all the money he had for our movement. This responsibility is scary. I am not scared about being not successful, but I am scared of making mistakes", he candidly told CNN-IBN.
But having said that, Kejriwal added that there was also much for AAP to be proud of. "We showed everyone how to contest elections with honesty. We never left the path of truth. And as all the sting operations and Prashant Bhushan CDs showed, we hit them where it hurt the most".
5.30 pm: Kejriwal when asked whether he had any regrets with regard to his split from Anna Hazare, folded his hands and said, "Please bless us Anna ji. Whatever we are doing, we are doing it for the country, not for ourselves".
Speaking to CNN-IBN, Kejriwal confirmed that he did want to contest Lok Sabha elections, although he did not know when and how. "I appeal to all those who want honest politics in this country to come together", he said, adding that India deserved better.
"India is full of first class citizens who have third class governance", he said. Although he hastened to add that it was politicians and not politics that were corrupt in the country. He also dismissed the charge that it was his movement that had fostered deep cynicism against politicians. "That cynicism was already there. How else did we win the election?", he asked.
* AAP leader Arvind Kejriwal has said that his massive margin of victory over Sheila Dikshit was nothing but a reflection of the anger that the people felt towards Sheila. "Kya hoon main? Mera kuch aukaat nahin hai (Who am I? I have no standing)", he said, adding that the votes for him were in fact all expressions of anger.
5 pm: With no clear winner in the Delhi assembly polls, former IPS officer-turned-activist Kiran Bedi on Monday suggested that the BJP and the AAP should come together to form the government in the capital. Read more
4.30 pm: The Congress has not taken any decision on forming an alliance with the Aam Aadmi Party (AAP) so far, former Delhi chief minister Sheila Dikshit said on Monday.
"We havent't taken a decision on supporting AAP. The AAP has categorically said that it does not want to support anybody, nor do they require anybody's support. It is their decision," Dikshit told a TV channel. Read more
BJP, Aam Aadmi Party supporters in US celebrate electoral success
4 pm: Shocked by the poor performance of her party in the four states' assembly polls on Sunday, Congress president Sonia Gandhi has called a meeting of senior leaders, party sources said on Monday. Read more
3.00pm: Bharatiya Janata Party (BJP) said it would try its "level best" to give a government to the people though it would not resort to horse trading. "It is our responsibility to give a popular government to the people of Delhi. We will find a solution and try our level best to give an alternative to the people of Delhi by forming a government under the leadership of Harsh Vardhan," former BJP president Nitin Gadkari, who was also the party's in-charge for the Delhi elections, told a news channel here. Asked whether the BJP was mulling over drawing support from the debutant Aam Aadmi Party (AAP), he said: "This question does not arise, neither there is any proposal from their side."
2.00pm: Delhi BJP President Vijay Goel said the party will not resort to any unfair means to reach the majority mark and prefer to sit in the opposition.
"We will not resort to any unfair means to get support of the required number of MLAs. The people of Delhi have given the verdict and we respect it. We will prefer to sit in opposition rather than forming a government through horse trading," Goel said.
December 9, 12.00pm: A day after creating history in Delhi's election, Aam Aadmi Party today maintained that it will not stake claim to form government and will play the role of a constructive opposition. The party also said that it was the responsibility of the BJP, which is the single largest party, to form the government. After a meeting of top party leaders at party chief Arvind Kejriwal's residence here, AAP leader Yogendra Yadav said, even if Lt Governor Najeeb Jung invites the party to form the government it will decline such an offer citing lack of majority. "We are not going to form the government. We will sit in the opposition and play the role of a constructive opposition.
As per the Constitution the largest party has to take the responsibility of forming government," Yadav said. "We have not got majority so it is very surprising that the number one party (BJP) is not ready to form the government and telling us to do so," he said. Yadav also strongly ruled out taking support of Congress to form government. Read more
BJP scores 4-0, Congress crushed, AAP stuns Delhi
Anushka Sharma, Shekhar Kapur, Chetan Bhagat, Gul Panag among other celebrities applaud Arvind Kejriwal on Twitter
6.06pm: Arvind Kejriwal addresses the media. He calls the elections a common man's victory. It's fight between Common Man and BJP/Congress. Arvind Kejriwal confirms that he sit in the opposition happily. He wil not take support from any other party, even externally.
Need for change drove people to AAP, say supporters
5.20pm: AAP's Surender Singh, a former NSG commando and part of the team that fought the 26/11 terrorists in Mumbai, defeated Bharatiya Janata Party's Karan Singh Tanwar in the Delhi Cantonment constituency. AAP's Somnath Bharti wins in South Delhi's Malviya Nagar constituency defeating BJP's Arti Mehra. Delhi Power Minister Haroon Yusuf defeats Moti Lal Sodhi of BJP in Ballimaran. AAP's Vinod Kumar Binny defeats Congress' AK Walia in Laxmi Nagar.
AAP fan holds up modified Nayak poster (Photo credit: Hakeem Irfan)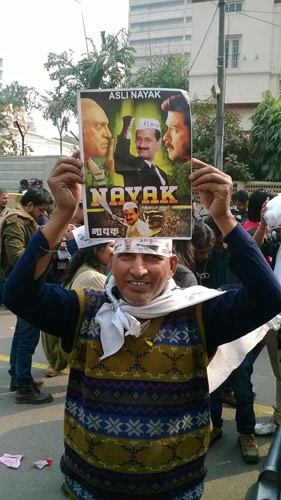 4.20pm: Delhi Lieutenant-Governor Najeeb Jung Sunday dissolved the legislative assembly and forwarded the resignation of Chief Minister Sheila Dikshit to President Pranab Mukherjee. "The lieutenant governor has dissolved the fourth Delhi legislative assembly of the National Capital Territory of Delhi with effect from Dec 8, 2013," said an official statement. "On receipt of the resignation of Chief Minister Sheila Dikshit, he (Jung) has forwarded it to the president of India," it added.
26/11 hero adds to Aam Aadmi Party tally in Delhi polls
3.35pm: Congress MLA Chaudhary Prem Singh, who had won the last four assembly elections from Ambedkar Nagar constituency, was decisively defeated by Aam Aadmi Party candidate Ashok Kumar, who was leading Singh by more than 15,000 votes at the time of publishing, reports dna's Mayank Aggarwal
3.30pm: Debutant AAP's Arvind Kejriwal defeats three-time Delhi Chief Minister Sheila Dikshit in New Delhi constituency by 22,000 votes. Delhi Power Minister Haroon Yusuf defeats Moti Lal Sodhi of BJP in Ballimaran. AAP's Vinod Kumar Binny defeats Congress' AK Walia in Laxmi Nagar.
3.20pm: Three-time CM Sheila Dikshit's house wears a deserted look on Sunday when trends pointed out that her Congress party is being decimated by the Aam Aadmi Party and the BJP in the Assembly elections.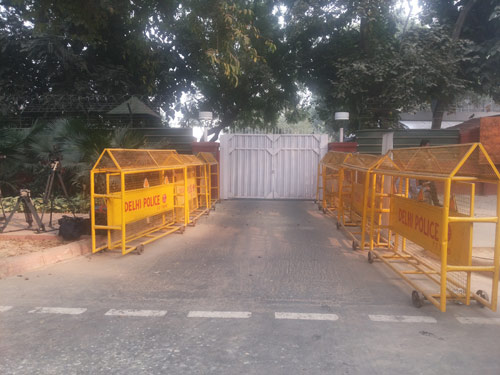 Journalist and Aam Aadmi Party candidate Rakhi Birla defeated cabinet minister Raj Kumar Chauhan, a close confidant of Sheila Dikshit, to win the Mangolpuri constituency, reports dna's Pradip R Sagar. Birla was leading Chauhan by 10,000 votes.
3.00pm: Narendra Modi arrives in Delhi.
2.40pm: Delhiites have liberally used the None of the Above (NOTA) option in the 2013 Assembly election. In fact, more than a 1,000 voters exercised this option in constituencies of Bawana, Gokulpur, Nangloi Jat and Uttam Nagar. Majority of the constituencies where NOTA has been widely exercised are the ones that are traditional Congress bastions with sitting Congress MLAs, reports dna's Maninder Dabas.
2.17pm: Aam Aadmi Party candidate Saurabh Bharadwaj wins the upmarket Greater Kailash constituency in Delhi Assembly election.
2.00pm: BJP still leading with 24 seats, AAP not far behind with 22 seats
1.51pm: Setback for AAP's Shazia Ilmi. After round 13, BJP candidate from RK Puram Anil Sharma leads by 205 votes, reports Shashi Bhushan.
1.40pm: Outside the AAP office, the celebratory frenzy is such that packets of jhadu are being brought and people are dancing and swinging with brooms to the sound of drumbeats and dhols. Inside the AAP control room are senior AAP leaders, including Arvind Kejriwal, Prashant Bhushan, Kumar Vishwas, Yogendra Yadav etc. The control room does not have a television set, so results are being streamed via a laptop to a connected projector screen, reports Mayank Aggarwal.
1.30pm: After round 12, AAP candidate from RK Puram Shazia Ilmi leads by 37 votes. After round 8, Arvind Kejriwal leads Sheila Dikshit by more than 10,000 votes in New Delhi constituency. Aam Aadmi Party (AAP) Arvind Kejriwal is leading by about 2,500 votes over his Congress rival and incumbent Chief Minister Shiela Dikshit. The Bharatiya Janata Party's (BJP's) Vijender Gupta is in third position in the three-way contest for the New delhi Assembly Constituency seat.
1.00pm: AAP Candidate Jagdeep Singh wins from Harinagar. Ex-BJP MLA Harsharan Singh Balli loses despite contesting on Congress ticket. Former Delhi CM late Saheb Singh Verma's son Pravesh Verma of BJP defeats Yoganand Shastri of Congress in Mehrauli constituency. Akali candidate Harmeet Singh from Kalkaji wins. Kulwant Rana of BJP wins Delhi's Rithala seat. BJP's Nandkishor Garg wins Tringar seat by 2,800 votes beating his nearest AAP rival. AAP candidates win Shakur Basti, Ambedkar Nagar, Deoli and Sangam Vihar seats in Delhi.
12.00pm: Delhi CM Sheila Dikshit sends her resignation to Lt Governor Najeeb Jung. Arvind Kejriwal wins from New Delhi constituency by a huge margin, claim AAP supporters. As per the Election Commission of India, the opposition Bharatiya Janata Party is leading in 36 seats against the AAP's 25 and Congress' 07. Shiromani Akali Dal and an Independent are ahead in one seat each. A news agency reports that Delhi Chief Minister Sheila Dikshit is trailing behind Arvind Kejriwal by over 8,000 votes in New Delhi constituency.
11.00am: Dr Harsh Vardhan leads with 9,166 votes in Krishna Nagar. BJP gains majority in Delhi, gets 36 seats, AAP 21, Congress 9, Others 4.
10.00am: BJP is leading in 32 seats, AAP in 25, Congress in 11 and Others in 1. After round 2 of counting in New Delhi constituency, Arvind Kejriwal leads Sheila Dikshit by 3,500 votes. Arvind Kejriwal leading by over 5,000 seats in New Delhi against Sheila Dikshit.
9.30am: As per trends, 49 out of 70 seats - BJP is ahead in 21, Congress in eight, AAP in 17, and Others in three. BJP's CM candidate Harsh Vardhan leads from Krishna Nagar. AAP's Manish Sisodia ahead in Patparganj. Arvind Kejriwal trails in New Delhi constituency. BJP is leading in 26 of the 58 seats for which trends were available at 9:38 am as counting is underway of the votes cast in the elections for the 70-member Delhi Assembly. The ruling Congress is leading in nine seats, the AAP in 21 and Others in 2. Delhi's Health Minister AK Walia trails in Lakshmi Nagar. AAP leader Arvind Kejriwal is leading by over 1,500 votes in New Delhi constituency from where Chief Minister Sheila Dikshit is contesting.
9:00 am: BJP is ahead in six seats, Congress in two, AAP in four and Others in five. AAP's Shazia Ilmi trailing from RK Puram. 25 out of 70 seats - BJP is ahead in 10, and Congress, AAP, and Others in five each. Delhi CM Sheila Dikshit is leading in high-profile New Delhi constituency. BJP is leading in 15, AAP in 14, Congress in 6 and Others in 3 seats respectively as per trends.
8.53am: Counting process has begun.First trend in from Delhi and it is an Aam Aadmi Party candidate from Narela seat.As per trends at 8:53 am, the BJP is leading in one seat and the AAP in two seats.