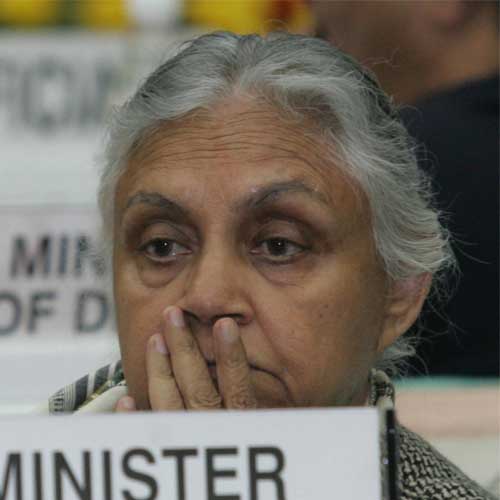 Former Chief Minister Sheila Dikshit today moved the Delhi High Court to oppose the plea of the then AAP government to withdraw the appeal filed by her dispensation against a lower court order to register an FIR against her in a corruption case. "Permit applicant Sheila Dikshit to object to the withdrawal application (filed by Aam Aadmi Party government) and permit Dikshit to contest the present petition," the plea, which is likely to be taken up tomorrow, said. The Arvind Kejriwal government had on February 14 (when it resigned) moved the court seeking to take back the appeal, filed by the previous Congress government, against the decision of a lower court, saying
Dikshit will have to defend herself as she is no more the Chief Minister and the government lacked the "locus standi" to fight for her.
Opposing the move, Dikshit, in her plea, said "the said act of the appellant/petitioner/ state is unconstitutional in as much as there has been no change in the facts and circumstances of the present case which has necessitated the state to file withdrawal application."
Seeking the impleadment of Dikshit as a party, the plea, filed through lawyer Mehmood Pracha, said "the act of the state...would adversely affect the right of Sheila Dikshit as one of the affected parties."
Justice VP Vaish is likely to hear the pleas of the state government and Dikshit tomorrow. The AAP government, which resigned after the controversy over passage of the Jan Lokpal Bill, had highlighted its stand against corruption and said the cabinet's decision to take back the appeal was approved by the Lt Governor.
The previous Congress government had gone to the high court in September last year against a lower court order to register an FIR against Dikshit on a complaint of BJP leader Vijender Gupta alleging her administration misused public funds to the tune Rs 22.56 crore in an advertisement campaign ahead of 2008 assembly polls. The order was stayed by the high court.