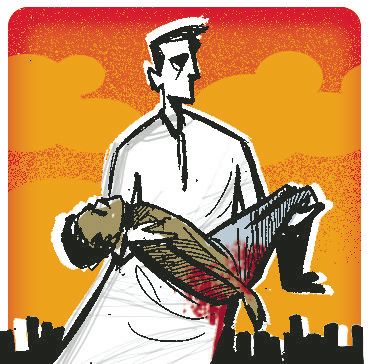 Family members of a 59-year-old man, who died in a road accident involving a speeding bike, have been awarded a compensation of over Rs 19 lakh by a Motor Accident Claims Tribunal (MACT) in Delhi.
The tribunal directed the owner of the offending bike to pay a compensation of Rs 19,60,956 to the wife and a daughter of Ashok Nimkar, who suffered fatal injuries after being hit by the motorcycle in 2011.
"I award the compensation in favour of the petitioners (family of Nimkar) and against the respondents (bike owner and driver) on account of their liability being joint and several," MACT Presiding Officer Sanjeev Kumar Singh said.
The tribunal directed bike owner Mirajuddin and his father Sirajuddin, who was riding the vehicle at the time of the accident, to pay the compensation amount as the vehicle was not insured.
The tribunal noted that the motorcycle driver, resident of Central Delhi, had denied the accident in his written statements to the police but admitted it during his cross examination in the court.
"Respondent no 1 (driver) has averred the contents of written statements. In the cross examination he had admitted the accident and deposed that he was facing trial and was on bail. He had further deposed that he had not been falsely implicated in the present case," it said.
It also relied on the documents submitted by the family members of Nimkar, including mechanical inspection and details of accident report, while holding the driver and owner guilty of the accident.
According to the petition filed by victim's wife Rajni and two daughters, the accident took place on the evening of May 9, 2011, when Ashok Nimkar was walking towards his residence from his office.
When he reached a spot near Darya Ganj, a speeding motorcycle driven by Sirajuddin hit him.
Due to the impact, he fell down and sustained fatal injuries. In the petition, the family members, residents of west-Delhi, claimed Rs 20,00,000 as compensation for Nimkar's untimely death.