66,11,362 males, 53,20,705 females, 4509 service and six NRI voters will be exercising their right to vote in today's elections. In all, 1,19,36,582 voters will be exercising their franchise.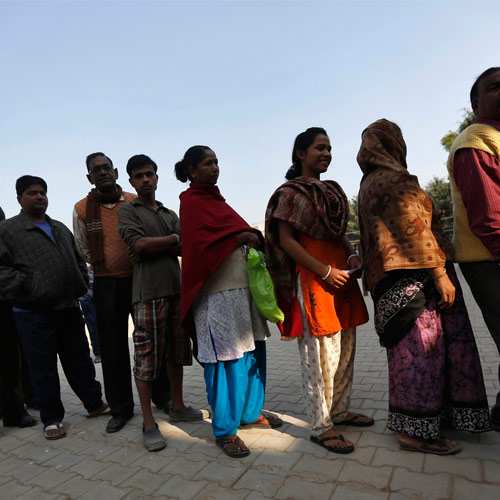 A single phase election for the Delhi State Assembly are being held today.
Congress is engaged in an electoral battle with BJP, while new entrant in the fray Aam Admi Party's possible impact is being watched keenly.
The stakes in this election are high for three-time Chief Minister Sheila Dikshit, who mainly highlighted her achievements and development agenda during the campaigning, while BJP's Chief Ministerial candidate Harsh Vardhan promised to cut power tariff by 30% and slash vegetable prices within 30 days of coming to power.
Ensuring peaceful and safe assembly elections, a total number of 32,801 personnel of Delhi Police and 10,700 central paramilitary force personnel were deployed all across the capital on 11,753 polling booths out of which 630 have been identified as critical and hyper critical.
Latest updates:
* 10.00 pm: Two incidents of minor violence at Shaheen Bagh in SouthEast Delhi and Tilak Nagar in West Delhi during polls. Police immediately took control as supporters of different parties fought. Police have registers cases.
* 7:35 pm: Election Commission says voter turnout was 65% till 6:30pm, reports dna's Gangadhar Patil. Officials also said that 1,000 violations of election code of conduct were reported; 1,660 arms seized and 42,000 litres of alcohol, worth Rs 1 crore, was seized.
* 6:57 pm: AAP worker Mahendra Goel said he was beaten up by the son of the sitting BJP MLA from Rohini, reports dna's Mayank Aggarwal
* 6.00 pm: "Voting percentage over 65% in Delhi means voters who never voted in their lives have come out to vote ...our journey has been phenomenal," said AAP spokesperson Yogendra Yadav, reports dna's Mayank Aggarwal. "AAP has proved that elections can be fought using white money without resorting to muscle power."
* 5:55pm: Election Commission says provisional voter turnout for Delhi Assembly elections is 59%, expects it to cross 65%, reports dna's Gangadhar Patil
* 5.45 pm: A section of voters here chose to exercise the newly-introduced 'None Of The Above Option' (NOTA) option today saying they have "little expectations" from any of the political parties engaged in the electoral battle. Read full story here
* 5:30pm: Election Commission says provisional voter turnout for Delhi Assembly elections is 59%, expects it to cross 65%, reports dna's Gangadhar Patil
* 4:45pm: After months of a gruelling election campaign, Aam Admi Party national convenor and its CM candidate Arvind Kejriwal left for a three-day vipassana course this afternoon, reports dna's Mayank Aggarwal. By today afternoon, Kejriwal had nearly lost his voice and was barely able to speak.
* 4.30pm: Amid brisk polling, an estimated 48% of around 1.2 crore voters exercised their franchise till 3 pm in Delhi Assembly election. "It has been a good turnout all over Delhi. We are hoping the final percentage of voting will be between 70 and 75%," Delhi's Chief Electoral officer Vijay Dev said.
* 4:28pm: A Congress van in search of its workers at the helpdesk at Ali Ganj polling booth, near Jor Bagh, could not find any Congress workers around. Eventually, they gave the lunch boxes that they had brought for their own workers to BJP workers, reports Iftikhar Gilani.
* 3:56pm: Sitting Congress MLA Tarvinder Marwa's workers have been distributing food packets 200 metres away from the polling booth in Jungpura, violating the moral election code of conduct, reports dna's Rohinee Singh. Also, a rumour is going around that Jungpura's AAP candidate is giving Rs 200 to those voting for AAP although dna is not yet confirming this.
More and more voters are coming out after the lull in the post-lunch session in east Delhi's polling stations. Officials expect the turnout to touch about 70% by end of polling. Voter tunrout in Mayur Vihar Phase 1, which has nearly 40 polling booths, is nearly 60%.
*3.47pm: First-time voter Ankit Sethi came with his family to vote in the North Campus area. "Am not happy with the current government for a number of issues, so I want a change. Unlike my family, I am rooting for a change and am optimistic too," the 21-year-old told dna's Priyanka Sahay.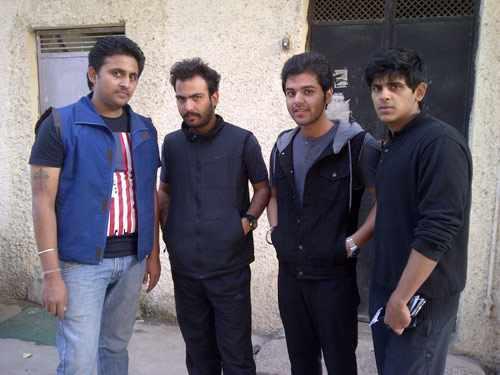 (Photo Credit: Priyanka Sahay)
* 3:13pm: 70% turnout reported in Balika Vidyalaya polling booth in Greater Kailash constituency till around 2pm, reports dna's Neeraj Thakur
* 3.04pm: Moderate to brisk voting was today witnessed in Delhi as 34 per cent of the nearly 1.2 crore electorate exercised their franchise during the first five hours in the assembly polls where Congress, BJP and AAP are locked in a spirited fight. "Thirty-four per cent of the electorate have cast their votes till 1 PM. The polling has so far been peaceful and there were no reports of any untoward incident," top officials in the Delhi Election Commission said.
* 2:46pm: North Campus witnessing mixed crowd, from families to seniors, reports dna's Priyanka Sahay. "We are not satisfied with how Delhi has been governed in the last few years. Even though the North Campus area is relatively safe, I don't feel secure elsewhere. We definitely need a change," said Priyanka Malhotra, who works in a multi-national company.
* 2.05pm: Polling officials in Lutyens' Delhi say voter turnout so far has been close to 50%, reports dna's Shashi Bhushan.
Sikh voters in Delhi's Hari Nagar constituency are upset with Congress candidate HS Balli and say that he should've contested as an independent instead, reports dna's Rohinee Singh.
Also read: Delhi polls: AAP, Congress workers scuffle over Gandhi caps

* 2.00pm: Aam Admi Party (AAP) leader Arvind Kejriwal urged voters to fast until they cast their vote. Kejriwal also said he was "confident of the results" after casting his vote at Hanuman Road polling booth in New Delhi. "I appeal to the people, observe fast till you cast your vote. People are ready, they have made up their mind to remove the corrupt. I am very confident of the results. It will not be my victory but that of the people," he said. Kejriwal added that he will meditate for the next two days and return on December 7. AAP leader Manish Sisodia too cast his vote in Patparganj.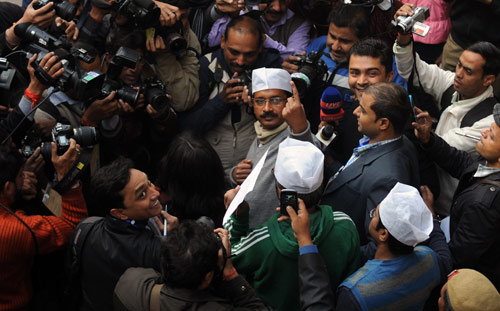 Arvind Kejriwal cast his vote (Photo credit: AFP)
* 1.40pm: Delhi recorded 17 percent voting till 11 am and polling is likely to pick up as the day prog! ress, a statement by the State Election Commission said.
Also read: 60 voting machines replaced during Delhi polls

* 1.33pm: dna correspondent Mayank Aggarwal cast his vote. Delhi, it's time to get out and vote. Be sure to make an informed decision.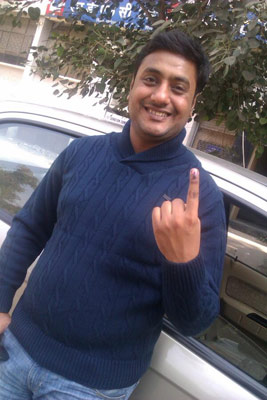 * 1.26pm: The Lieutenant Governor of Delhi, Najeeb Jung, cast his vote and said the high turnout in elections is proof of India's democratic nature. "After every five years, we get to exercise our electoral right, and this proves that people are living in a democracy. The voter turnout percentage in other state elections shows us that India is a successful democracy," he said after he cast his vote. Responding to low voter turnout in past election in Delhi, he said Delhi being the National Capital, should vote in good numbers. On being asked about his expectations from the next government in Delhi, he said, "The new government which is formed, always tries hard for the development of the state. And, this is what we should hope for from the next government." Earlier, Navy Chief Admiral D K Joshi and former Comptroller and Auditor General (CAG) Vinod Rai also cast their votes.
* 1.20pm: "BJP is far ahead of the Congress and the AAP. It is the Congress and the AAP who are contesting for the second position. Nobody can make a dent in our vote bank," Bharatiya Janata Party (BJP) chief ministerial candidate Harsh Vardhan told reporters after casting his vote in the Krishna Nagar constituency. He also requested the people to come out in! large numbers and vote. "If a tribal state like Chhattisgarh can get 74.77 voting percentage then why cannot Delhi have 80 percent voters turnout? When people here are all literate," said Harsh Vardhan.
* 1:15pm: About 30 voters from Kalibari area in New Delhi consituency have gathered outside the Aam Aadmi Party office in central Delhi complaining about their names missing from the voters' list. The constituency is being closely watched as CM Sheila Dikshit is contesting this seat against AAP's Arvind Kejriwal and BJP's Dr Harsh Vardhan. Kalibari has nearly 7,000 voters, and voters, including Dhullar Singh Pasi, Kesheram, Balwant Singh and Nandlal, are alleging that the Congress and BJP may have got thousands of Kalibari voters' names deleted from the list as the parties knew that the voters' were not supporting them, reports dna's Mayank Aggarwal. See pictures here
* 12:48pm: Voters in Kajipur village on the Delhi-Haryana border, which had entirely boycotted the 2008 Assembly elections, turned out in large numbers to vote this time. Until noon, of the 1141 voters, 416 had cast their votes, making it a turnout of almost 40%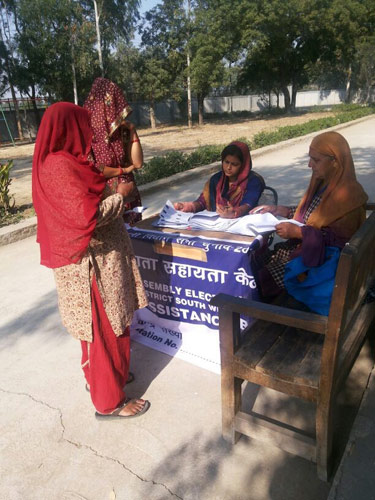 * 1243pm: 94-year-old Ramvati casts her vote in a polling booth on Najafgarh, the largest assemly constituency in terms of area in Delhi. Ramvati has never skipped voting in any election, reports dna correspondent Rohinee Singh from Delhi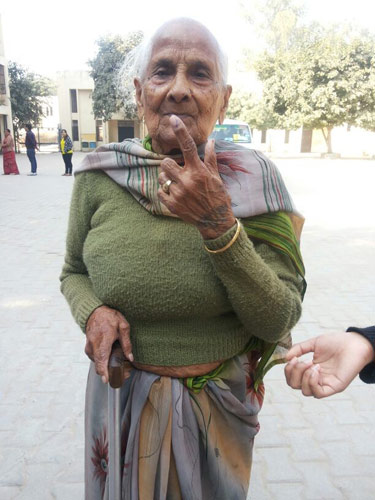 Ramvati (Photo credit: Rohinee Singh)

*12:30pm: A fairly big crowd is being witnessed in North Campus; migrant students have especially registered to vote in Delhi and are seen standing in queues.
* 12:25pm: Festive mood in north Delhi's unauthorised colonies in Burari and Timarpur. People, decked in their finery, are coming out to vote.
* 12:15pm: First-time voters in west Delhi say they are eager ot vote, and have taken pains to especially get their voter ID's made. Some say they will cast their vote independent of the rest of their families' decision.
* 12.10pm: Voters in west and southwest Delhi have had to wait for at least 15-20 minutes as long queues are seen ouside polling booths.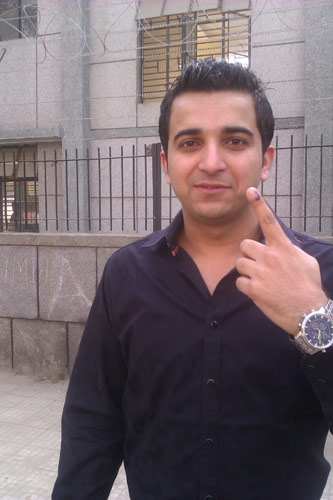 Puneet Raheja (Photo credit: Mayank Aggarwal)
* 12.08pm: BPO professional Puneet Raheja, 28, votes for the first time in his life. "I never voted before as there was no honest politician. But this time I voted for a new start ... for Jhaadu," he said.
* 11:42am: Police have asked all political parties sitting outside polling booths to remove posters and publicity material; they have also said that more than four people cannot sit at party facilitation desks to help voters outside polling booths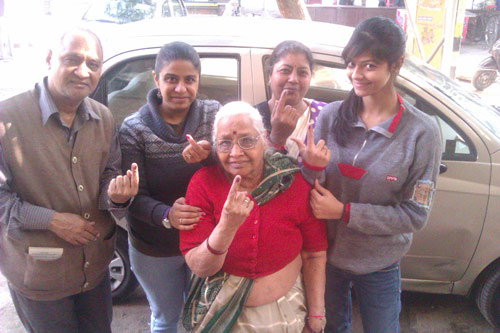 Entire family comes out to vote in Vishwas Nagar constituency. (Photo credit: Mayank Aggarwal)
* 11:40am: Good turnout ovbserved in posh colonies of east Delhi. In the 17 such colonies in Vishwas Nagar constituency, nearly 30% voting has been observed in the first three hours of polling, according to polling station officers.
* 11:20 am: First-time voter Vishwa Deepak disappointed to not find his name on the voter's list at the Laxmi Nagar polling booth in Vishwas Nagar constituency. "I registered well in advance and have my voter's ID card, but yet my name is not on the list," said Deepak, who took a couple of hours off from his Noida office to come ot vote. Vandana Kumari too took the first-half off to come and vote in Anand Vihar.
* 11.15am: Heavy voter turnout observed in the first 2-3 hours of voting. Senior citizens seen queing up outside polling booths; women, who would usually come after finishing their morning household chores, too have came out early to vote.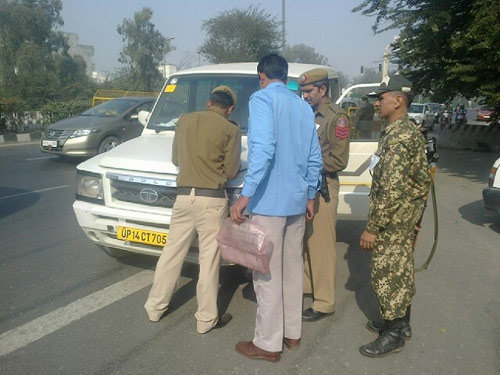 Heavy security near Vishwas Nagar constituency. (Photo courtesy: Ashutosh Kumar)
* 11:05 am: Heavy security seen at Maharajpur border, near Anand Vihar bus depot to prevent any untoward incident. Apart from Delhi police, pramilitary forces from Chhattisgarh and Jharkhand, Uttar Prdadesh home guard, BSF personnel as well as those from Maharashtra police have been deployde since 3am. Although this is not a sensitive booth, officials are taking all precautions so as miscreants don't create trouble or get away. Noida and Ghaziabad police too have been asked to be on alert.
* 10.42am: Rahul Gandhi seen on TV standing in line patiently at a toll booth on Aurangzeb Road to cast his vote.

* 10.14am: Congress president Sonia Gandhi casts her vote. Gandhi was accompanied by Chief Minister Sheila Dikshit to the polling station in Nirman Bhavan at around 10am. She is a voter in the New Delhi constituency from where Dikshit is contesting. Read more
* 9.50am: National capital Delhi goes to polls amidst tight security to prevent any untoward incident. The Election Commission has made elaborate arrangements to ensure free and fair polls. Intense vigil is being maintained to keep an eye on the misuse of money and muscle power in vulnerable areas, such as slum clusters and unauthorized colonies. Efforts have also been made to keep check on people coming to Delhi from Ghaziabad, Noida, Faridabad and Gurgaon, who may cast bogus votes during the polls. Out of 11,753 polling booths, 630 have been declared sensitive. For the first time, webcasting has been introduced in all sensitive booths for live monitoring of proceedings. About 64,000 police personnel and 107 companies of central paramilitary forces have been deployed to ensure a smooth conduct of the polls
See Pictures: Delhi gears up for historic polls

* 9.44am: The Chief Electoral Officer hoped that people will vote in large number to create a new record. "I am confident that people of Delhi will create a new record of polling. There has been huge enthusiasm among the people about the election," he said.
* 9.36am: Tight security on all poll booths has been set up to evade all sorts of violence. Vice President Hamid Ansari and Delhi's Chief Electoral Officer Vijay Dev were among the first few to cast their votes in the Delhi Assembly election today.
Ansari reached New Delhi constituency's polling booth no 8586 at Nirman Bhavan at around 8:10 AM in He was among the first few citizens to vote at the booth, where other high-profile voters like Congress chief Sonia Gandhi and Delhi Chief Minister Sheila Dikshit are to also cast their ballot.
Dev exercised his franchise at 8 AM at polling booth no 47 at Hanuman Road in the constituency. He was the first voter at the booth. Read more
* 8.20am: Aam Aami Party leader Arvind Kejriwal casts his vote at a constituency in Delhi. The media presence is huge. There is great speculation of AAP making the cut this year.
* 8.00am: Delhi voters working in the National Capital Region will get a paid leave today after the Election Commission directed the employers of public and private companies to allow them to exercise their franchise. On the eve of the Dec 4 Delhi assembly polls, the Delhi Election Commission Tuesday sent text messages to people, reminding them to cast their ballots.The messages from the Delhi's Chief Electoral Office read: "Delhi goes to polls on Dec 4, 2013 - Don't forget to exercise your rights.
December 4 has been declared as a public holiday in the national capital in view of the Delhi polls.
Contesting parties:
BJP
The Bhartiya Janata Party is fielding 68 candidates in the polls, while the Bahujan Samaj Party is fielding 69. The Communist Party of India (CPI) will field ten candidates, while the Communist Party of India (Marxist) will field three candidates.
Manifesto: The BJP has also promised to give 12 subsidised LPG cylinders in a year to each household instead of current nine, besides ensuring full statehood. It has also promised to set up a dedicated Women Security Force to ensure safety of women.
INC
The Indian National Congress will field 70 candidates, while the Nationalist Congress Party (NCP) will field nine candidates.
Manifesto: In its manifesto, Congress has promised to set up a Single Command System to address the problems of multiplicity of authorities and a common economic zone for the entire National Capital Region to minimise load on Delhi's infrastructure. It has also promised to construct double- decker flyovers to ease traffic congestion.
AAP
In one year of formation, AAP will field 69 candidates.
Manifesto: The AAP said it will pass the Jan Lokpal Bill within 15 days of coming to power, besides promising to cut power tariff by 50 per cent. It said 700 litres of water per day will be given free to each household.
SAD
The Shiromani Akali Dal (SAD) has said that it will field two candidates.
Some facts:

* In a bid to boost voter turnout, nine 'model' polling stations with spruced-up infrastructure have been set up for the first time.* Candidates in the fray will look to win one of the 70 assembly constituency seats up for grab.
* In all, 66,11,362 males, 53,20,705 females, 4509 service and six NRI voters will be exercising their right to vote in today's elections. In all, 1,19,36,582 voters will be exercising their franchise.
* The number of types of assembly constituencies are 58 in the general category; 12 in Scheduled Caste category, none in Scheduled Tribe category.
* In all, 810 candidates will be contesting the polls for the 70 assembly seats, including 70 female candidates.
* The Burari Assembly constituency will witness 23 Candidates contesting against each other, while the Patel Nagar assembly constituency will witness only four candidates in the fray.
* About 509 Independents plus others will contest the polls.
* Narela is the largest assembly constituency in terms of area at 143.42 square kilomters.
* The largest assembly constituency in terms of the size of the electorate is Vikas Puri at 2,82,632.
* The smallest assembly constituency electorate wise is Delhi Cantt. At 85,821.
* The number of general, expenditure, police and awareness observers deployed is as follows: General (70), Expenditure (18), Police and awareness observers (5).
* Voting will take place in 11, 763 polling stations across the national capital in 11,963 EVMs
* Three parties – the BJP, the Congress and the AAP -- have big stakes in the December 4 assembly elections in Delhi. The triangular fight makes Delhi the most interesting among all the assembly poll battles this season
* According to experts, it will not be easy for the BJP or the AAP to topple or ignore Sheila Dikshit and her Congress Party's achievements for the city over the last 15 years
* The veteran chief minister of Delhi has a reputation as an administrator, which has helped her to continue in power for 15 years. The average citizen of Delhi will have little reason to equate a tainted government of Prime Minister Manmohan Singh with the effective government of Dikshit in Delhi.
* There is a view that both the BJP and the AAP are promoting a brand of negative politics, which might just help the Congress to retain power in the state for a fourth consecutive five-year term.
* The BJP on the other hand still needs to come up with a credible alternative to Dikshit. The opposition party seems to be banking on Narendra Modi's popularity too much for the Delhi polls.
* At best, it may just be able to improve on its stagnant vote-share in Delhi this time.
* The AAP has made a number of promises, but the voter may just ask how many of them it can fullfill.
* There is no doubt that the AAP is the dark horse this election season
* The party so far has seen a fairy tale run but only till the time of election. The AAP will certainly make history if it even comes close to power within just a year of formation.
How to find your booth
* Log on to the website of Election Commission of India (ECI) www.eci.nic.in; a tab named 'information linked to polling station map' will pop-up on the left-side of the page. By clicking on the name of the state, the maps will open up. A voter will have to click on this tab for visiting polling station map pages, and details regarding the 11,594 polling stations of Delhi have been uploaded here.
* Alternatively, one can log onto: http://ceodelhi.gov.in/OnlineErms/ElectorSearch.aspx . Provide voter I-card details and proceed to know your polling booth.
Delhi state assembly elections 2013: News, updates and all you need to know