Serial structural collapses raise the questions of safety.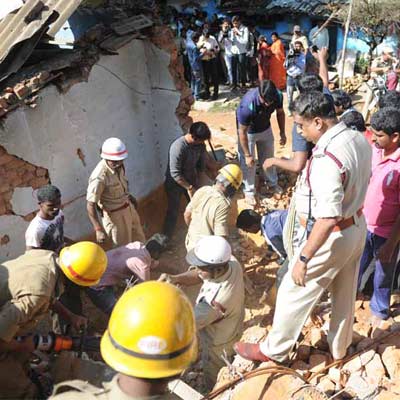 The Bangalore building collapse, earlier today, that claimed the lives of four individuals including a two-year-old child, brings up the total number of structure collapses in the city to four in the last four months.
Three other structural disasters have resulted in four deaths, and eight injuries.
August 19, 2013: Two labourers, including a woman, died and eight were injured when the ground floor of a six-storeyed structure caved in at Someshwara Nagar.
September 14, 2013: Two children were killed when the wall of their house collapsed on them in AK Colony in the city's Domlur area in the early hours.
Tanuj Kumar (12) and his brother, Manoj Kumar (14), were sleeping in their house when the wall collapsed, trapping them underneath the debris.
November 23, 2013: Residents of a two-storey building in RS Palya had a close shave in the wee hours of Saturday when the building sank 6 feet into the ground after earth beneath their house caved in.
November 26, 2013: Four people, including a one-and-half year old girl, died when a 40-year-old building collapsed at Adugodi in Bangalore.
These serial structural collapses raise the questions of safety in older buildings.