Critical grasslands being destroyed by forest officials at Dandeli-Anshi Tiger Reserve.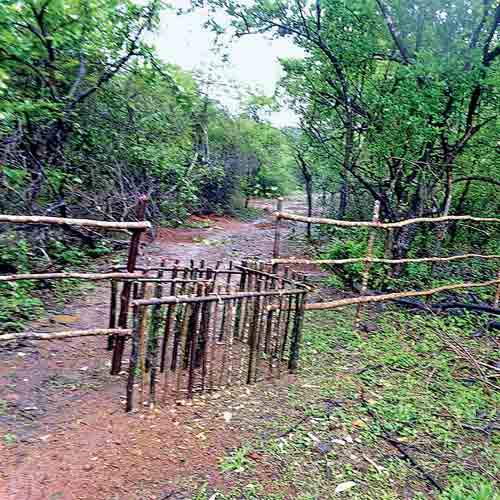 Even while Karnataka state was basking in the glory of hosting the largest number of tigers in the wild in the country, one of the important tiger reserves in the country at Anshi in Dandeli of Uttara Kannada district is being subjected to degeneration following the forest department taking up "improvement" of grasslands without knowing how important such ecology are to a tiger habitat.
"Surprising, as one would call it, the forest department was planting exotic varieties of tree species like acacia, and the forest department at Dandeli-Anshi Tiger Reserve has taken up plantation work in natural grasslands inside the protected area much against the interests of wildlife conservation, says conservationist Ravi Reddy.
He continues, "These plantations (and the destruction of grasslands) have been noticed at Sulavali, Marli and Kalpe areas of Kumbharwada range, and several other areas that form the heart of Dandeli-Anshi Tiger Reserve. Surprisingly, several natural young trees have been uprooted using mechanical diggers and dumpers. In a typical urban social-forestry development project, the forest department has even erected fences around the new plantations."
"These acts are in gross violation of Section 26 of the Indian Forest Act, Karnataka Tree Preservation Act, and very importantly against Section 29 of the Wildlife (Protection) Act 1972 which prohibits destruction of wildlife habitats. In 2012, former forest minister Vijayshankar had ordered the department to stop altering the natural habitat of the Tiger Reserve by planting exotic trees such as acacia and eucalyptus," Reddy explained.
Grasslands within forests were main feeding grounds for several small and large herbivores including spotted deer, gaur, sambar and even Elephants. Since many of the grasslands hold water acting as swamps, they encourage green grass even during peak summers making them vital feeding areas for herbivore species. "It was needless to say herbivores were important components of the food chain of Tigers, by taking up plantations the forest department was directly degenerating the Anashi Tiger reserve, Reddy said.
Planting tree species in such natural grasslands is unscientific, and will directly affect fodder for herbivores. The fences built around these plantations block free movement of herbivores in the already fragmented Tiger Reserve, threatened by human settlements and increasing vehicular traffic.
Tiger habitat in the country is spread over 5.58 lakh sq km, but has shrunk over the past decade by about 72,000 sq km. In 2001-2002, there were 3,642 tigers.
In 2008, the number of tigers was estimated at 1,411 in 2011 the survey has indicated that the tiger population in India might have risen by 295.
Karnataka houses nearly 300 big cats in the wild, beating Madhya Pradesh (257), which topped the list in the last census. The third largest tiger population is in Uttarakhand (227). Nearly 12,000 sq km of land was covered during the tiger census in Karnataka.
Due to herbivores (the prey base of carnivores) going out of the reserve to find new grasslands outside the reserve, carnivores too have been straying out of the reserve for hunting,. In the process, human-animal conflict in villages on the fringe areas have been on the rise. 'Road kills' of wildlife on national highways and other roads passing through and around the reserve have been on the increase as well. Forest officials contended that they were planting fruit-bearing trees, but they were in no way helping herbivores.
FACTFILE
Anshi National Park is located in Uttara Kannada district, bordering of Goa. The park is a habitat for tigers, leopards and elephants.
Anshi-Dandeli Tiger Reserve is notable since Anshi National Park and Dandeli Wildlife Sanctuary were together granted the status of Tiger Reserve, being declared 'Anshi Dandeli Tiger Reserve' in January, 2007.
The 340 sq km (130 Anshi park adjoins the Dandeli sanctuary, and together with six adjacent protected areas in Goa and Maharashtra, forms an almost uninterrupted protected area of over 2,200 sq km.