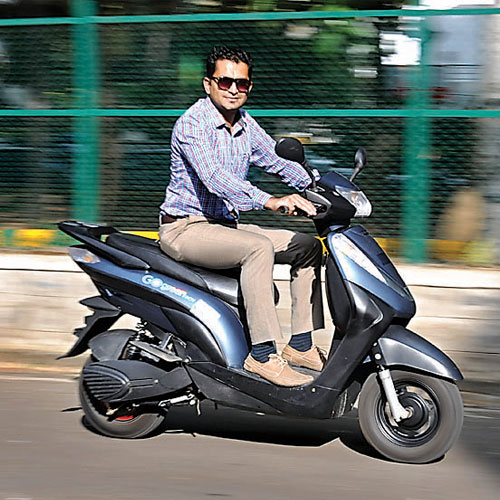 In an era when going green is seen as being uber cool, city boy Dhivik A has plans of selling over a 1,000 electric two-wheelers every month.
These two-wheelers would not just be beneficial to the environment, on account of being purely battery operated, but would also turn out to be economical for their owners, feels Dhivik.
Compared with shelling out over Rs79 per litre of petrol, people have to spend just Rs5-12 for a complete battery charge. "And the vehicles can run 40 to 100 km after every charge. This implies huge savings," says Dhivik.
His firm, GoGreen BOV, started in November 2010, currently sells around 700 electric two-wheelers every month.
"But we are getting a demand for nearly 1,100 (scooters) per month. Mainly from Bangalore, Tamil Nadu, Andhra Pradesh and Kerala," says Dhivik.
This new demand is a far cry from the minuscule seven to eight vehicles per month the company sold during its inception year.
"This shows people are getting savvier about the ecology. It also helps that electric two-wheelers are lighter on the pockets," says Dhivik.
However, India has far more potential, feels the engineer-turned-entrepreneur.
Comparing India and China, he says throughout India, only 3-4 lakh electric vehicles, including cars and two-wheelers of all manufacturers, are sold every year. "While in China, 1 million get sold each month. There is huge scope in India," says Dhivik.
Based in Kolar, GoGreen currently builds about 40% of its vehicle components, while the remaining 60% are imported from Germany, China, Japan and Korea.
"By 2014-15, we are hoping to get to a stage wherein we can indigenously develop up to 90% of components. For this we are also looking for setting up a bigger plant that can cater to additional demand."
Going ahead, the venture aims to bring out bicycles, wheelchairs and plug-in toys, all battery operated.
"We want to expand our customer base from mainly youngsters and working professionals to even children and senior citizens," says Dhivik.
Failure to success
Dhivik might be one of the countless entrepreneurs to have come out from Bangalore, especially in the engineer-turned-entrepreneur category. But the growth that his venture is seeing, contrasts with the failure he witnessed as an engineering student, taking eight years to complete the usual four year course.
"Failure makes one stronger. But, it also proved that pursuing what you like results in success, against simply doing something which is believed to fetch you success," says Dhivik.
Engineering is believed to fetch well-paying jobs, "but it's not true in case of those not interested in the field. So it's best to take your passion ahead, rather than just following the herd."