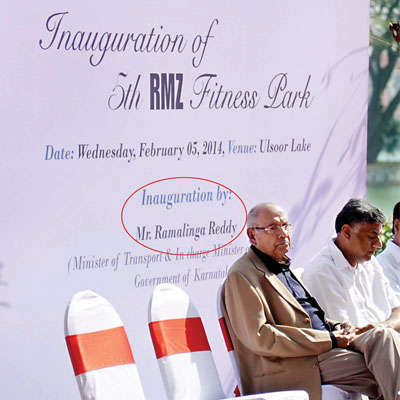 The rising tide of public opinion against the VIP culture, as practiced by our politicians, seems to have had no effect on R Roshan Baig, state minister for infrastructure development, information and publicity and haj affairs.
Baig, who was invited to inaugurate an open air gym in Halasuru, left the organisers stunned, when he left the function venue after noticing his name was missing from the hoarding at the venue.
The drama unfolded on Wednesday morning with RMZ Corp, a real estate developer, organising a function for throwing open an open air gym, set up on Ulsoor lake bund at an estimated cost of Rs12 lakh, to the public.
Minister for transport Ramalinga Reddy was to inaugurate the gym at 9am in the presence of Baig. Reddy didn't turn up for reasons not known, but Baig arrived at the venue. As soon as he saw his name missing from the hoarding put up at the venue, Baig berated the organisers and left the venue in a huff.
The dumbstruck organisers, including members of Halasuru Lake Residents' Welfare Association, followed the minister, imploring him to change his mind and inaugurate the gym. But Baig refused to relent.
"We met minister Roshan Baig twice before deciding on the date of the inauguration. We clearly mentioned that the open air gym was to be inaugurated by minister Reddy in the presence of Roshan Baig. There was no goof-up on our part. The minister was shouting at us for no fault of ours. We are shocked," said KS Raghunandan, deputy general manager, RMZ Corp.
Baig refused to comment on the incident.