Air Force Station Yelahanka clocks record 20,000 flying hours in six months; the airbase is said to witness the heaviest air traffic in South Asia.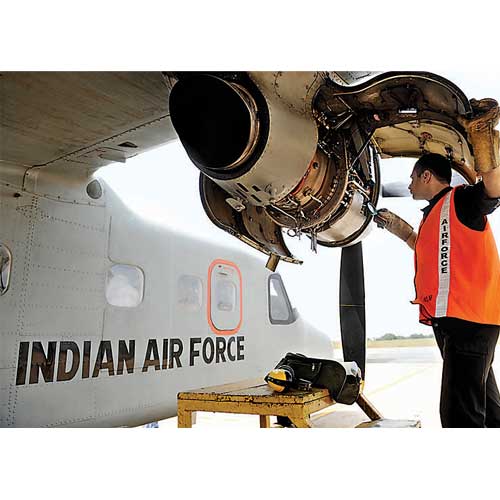 With the Bengaluru International Airport (BIA) and the Air Force Station (AFS) Yelahanka in close proximity, the skies of north Bangalore witnesses the highest air traffic in the country, and perhaps even in the region. An aircraft, be it civilian or military, can be spotted almost every minute here, and a testimony to this fact is the record number of flying hours that the AFS Yelahanka has clocked over a period of six months.
The AFS Yelahanka is home to Aero India, which is Asia's largest air show, and the nerve centre of the Indian Air Force's (IAF) training activity has clocked about 20,000 flying hours here in the past six months. It is said to be the highest in the region.
According to an IAF officer stationed at the AFS Yelahanka, clocking 20,000 flying hours in six months is no mean achievement, considering that it is only a training base where rookie pilots are trained on the Antonov-32's (AN-32) Dornier's and Mi8's.
The training at the AFS Yelahanka, which is celebrating its 50th anniversary, also includes formation flying, paratrooping, special night operations, causality evacuation and VIP flying.
At present, 35 rookie pilots are being trained to operate transport aircraft and 21 to operate helicopters at the AFS Yelahanka.
The 112 Helicopter Unit, which is based in the air base, has been involved in several military and relief operations in the past. Even during the recent floods in Uttarakhand, the helicopters of the unit were on standby.
AFS Yelahanka is also gearing up to IAF's overall modernisation plan, which include procuring latest aircraft and systems.
"We are directly involved in the overall modernisation plan of the IAF, and are preparing for it," said Air Commodore SP Singh, air officer commanding, AFS Yelahanka.
Know AFS Yelahanka
The Air Force Station in Yelahanka is an Indian Air Force base, mainly used to train pilots to fly transport planes.
This station also conducts type-conversion of navigators on the Antonov An-32.
Exhibition formation fly-pasts during passing-out parades at premier training institutions such as the Air Force Academy and the Air Force Technical College are carried out routinely here.
In addition, the station undertakes logistics support tasks allotted by Air HQs and HQ TC.
Every two years, Aero India, a biennial air show takes place at Yelahanka air force station.
source: wikipedia