Mamta Kumari of Shimoga bags 11 gold medals, Sarat Kumar of Jharkhand wins seven.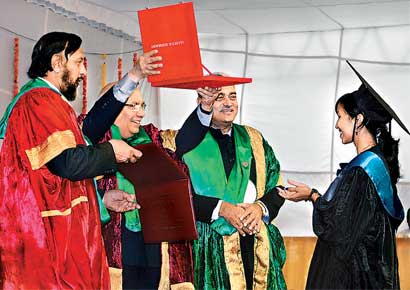 There are gold medalists and there are gold medalists. The irony was evident at the convocation of University of Agricultural Sciences (UAS) on Friday. There were quite a few students who walked with a gold medal or two, but a BSc graduate bagged as many as 11.
Mamta Kumari, who completed her BSc in agriculture from the College of Agriculture, Shimoga, stole the thunder during the graduation ceremony. Her feat of winning 11 gold medals left the chief guest—director-general of TERI, RK Pachauri—and governor Hans Raj Bhardwaj impressed. The shy girl was so flustered with the attention she was getting that, while speaking to presspersons, she could not recollect her own phone number.
She said she got one gold medal for general merit and the others for individual competitions. And how did she do it? She has a simple answer to that: hard work. She is now set to pursue MSc from Sam Higginbotom Institute of Agriculture, Technology & Sciences, Allahabad. After that, she wants to do PhD in genetics and become a full-time researcher.
Next in the list of multiple gold medal winners was Sarat Kumar. The Jharkhand lad, who did BSc in agriculture, won seven yellow medallions. He is now doing MBA from XIMB and aspires to get into the field of rural management. He said that after finishing MBA, he would work with some NGO that works to help farmers. He said that within 10 years, he would start his own NGO to help farmers.
Gauthami R Bhaskar, the first female to get a gold medal in sports, said she learnt to prioritise her studies and sports, evident from the fact that she got a gold medal in academics too. "I was the best woman athlete at the Inter-Agricultural All India Sports Meet in 2010-2011, 2011-2012," said the former Mount Carmel student.
She said she would have never been able to excel in studies if she did not have sports to focus on. "I have won the gold medal for 100 metres, 200 metres, 400 metres and got gold for relay as well. I practise sports in the evening, then go back home and study till 12.30am. I had to sacrifice a bit because sports and academics meant that I could not attend as many family functions but I would not have been able to concentrate in studies without my sports," she said.
@DNA