Youth should work to eliminate corruption and focus on environment, education, poverty, says Netaji's daughter.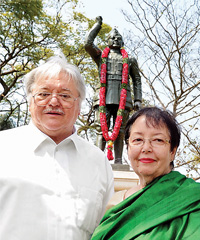 Subash Chandra Bose was always a crusader for education and women empowerment, according to his daughter, Anita Bose- Pfaff, who added that India today, needs to focus on education rather than defence. Interacting with media persons in the city, on Tuesday, she said, "If India manages to remain stable, despite problems in Afghanistan and Pakistan which have a destabilising effect on the sub continent, it could cut down its spending on defence and buying or building armaments and instead focus on education and social welfare."
This becomes especially important in light of the fact that despite its intellectual potential, the country had a high illiteracy rate, which leaders in the country need to address immediately.
She remarked on the same when she said that the Indian National Movement would have been something different if the current trends of using social media, etc were present during that time. "The movement had its own priorities and you can only speculate what would have happened if Netaji had changed his priorities with regard to the freedom struggle and continued in politics. But he would always have been a crusader for education," she said.
To the young population of the country, who continue to be influenced by Subhash Chandra Bose, she said that Netaji's ideas, especially on women's empowerment and city administration are still valid today and the youth should learn from them. "It is a real honour that even today young people who have only heard about him remember him."
Seeing hope in the Indian youth, Anita said that while they should work for a corruption free India, there was also an urgent need to concentrate on other issues such as the environment, education and fighting poverty. "Bangalore, has become a very polluted city and efforts have to made to curb this," she said.
"There is a wide disparity in income among the people of India, which also needs to be addressed," Anita said, adding, "Unless this is done, it will have a great destabilising effect on the country by breeding corruption and more criminalisation. Corruption, garbage, and other problems are like cancer and it should concern both people and the
leaders enough to make efforts and take the responsibility to stop it from spreading," she said.
Answering a question on controversy around shifting of the Ambedkar statue, Anita Bose said that as long as statues were given a place befitting their personalities, there should not be any problem in shifting them. "Metro cannot go around the statue after all," she said.
It is a real honour that even today young people who have only heard about him remember him.
—Anita Bose, about her father
@DNA