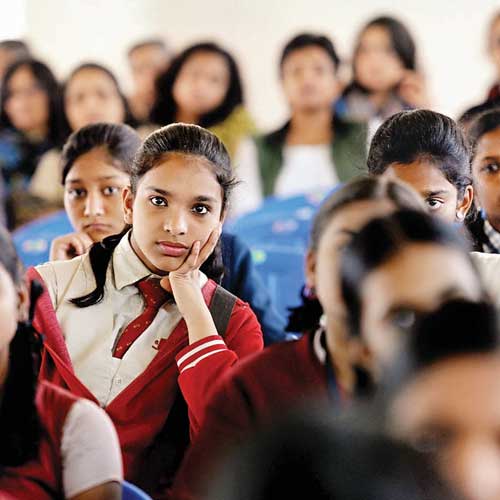 Life may seem pretty hard at times, but it's still worth living. Hold on, don't give up. This was the message given out to students at a seminar on Saturday.
Bangalore is often referred to as the suicide capital of India. And every year after exam results are out, the city sees a spate of suicides by students who could not clear the examination. Given the impressionable age they are at, a consortium of organisations decided to speak to children about how to deal with depression and not to call it quits.
Bangalore Multi-Purpose Social Service Society, in association with St Aloysius Degree College, Vimochana, Parivarthan, Sampurna Montfort College, NIMHANS and a host of other organisations, launched 'Speak Out, Reach Out', a campaign against suicide for school- and college-going children.
Around 100 students from Quathul Islam High School, Benson Town, BMS High School, St Anne's High School, St Anthony's High School, Ramamurthy Nagar, St Anthony's High School, Cox Town, St John's High School, Francis Xavier High School attended the programme. Appreciating the students for participating in the programme, Archbishop of Bangalore Bernard Blasius Moras advised the students to love life and not to give up.
Speaking with dna, Dr Ambrose Pinto SJ, principal, St Aloysius Degree College, said the programme has been launched on a pilot basis. "We are contemplating to extend this programme to other areas in Bangalore by making as many as educational institutions as possible participate in it. Recently, a few students ended their lives. These incidents disturbed us a lot. We want that no youth shall commit suicide due to failure in examination or any other issues," said Dr Pinto.
Expressing gratitude for providing an opportunity to participate in the programme, Shansheer Ali of Quwathul Islam High School said the programme was very good and taught him how to dissuade students in distress from committing suicide. Expressing similar opinion, Gauthami R of St Anthony's Girls High School said the programme equipped her with the knowledge of how to interact with students prone to pressure and depression.
Rubeena Sarwath of BM English High School said the day-long programme was a great experience for her. "It helped me how to understand those in depression and how to help them face difficulties," she said.
Austin Roy of St John's High School, Frazer Town, was also happy that he attended the programme. "We were taught how to respond to people who are in depression. We were told that one should not end life due to failure in examinations or scoring poor marks," he said.
Dr Geetha, director, health and family services department, who too took part in the event, said the government has been organising week-long training at district hospitals and educational institutions in October every year to create awareness about the issue.