Call for increased awareness about genetically modified food.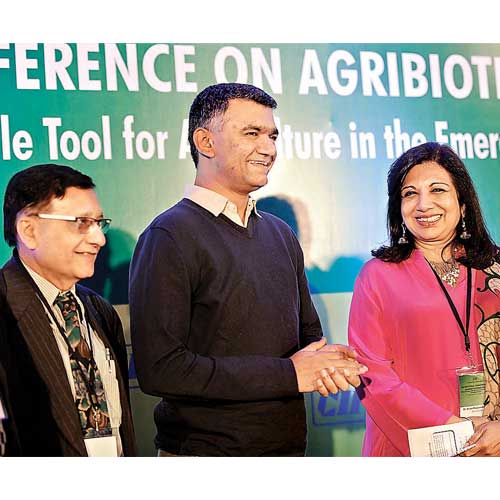 The city's biotech sector came down heavily on groups lobbying against genetically modified food, and asserted that the technology and its commercialisation is safe.
"There is a lot of misunderstanding about biotech and related technologies, and poor awareness about how biotech products are brought to the market," said Kiran Mazumdar Shaw, chairman, Biocon.
Saying that the second agricultural revolution in India will be lead by biotechnology, Shaw added the technology will help in increasing productivity of farm produce.
The GM and BT issue has been under a wave of controversy, latest being the five member technical expert committee, appointed by the Supreme Court, which some months ago recommended a moratorium on field trials for GM crops.
This moratorium had followed protests by NGOs and environmentalists on the negative effects of GM crops. Biotech experts, speaking at a CII national seminar on agri-biotechnology, said people are unaware of the regulatory mechanisms in place to ensure safety of the products.
"There is no compromise on safety. But NGOs are spreading fear by saying things that carry no scientific basis," said genetic scientist Deepak Pental.
Activists, however, pointed out that there is scientific evidence to show that GM and BT can have ill-effects on the environment, human and animal health.
Neha Saigal, campaigner from Greenpeace India, said there are over 400 scientifically reviewed papers that substantiate the "disadvantages of GM".
Saigal refuted the statement that there is strong regulatory mechanism in place to test GM crops. "GM and BT is not the silver bullet that it is made out to be."
BT cotton's advantages for farmers
About 95% farmers in Karnataka are using BT cotton, said state agriculture minister Krishna Byre Gowda. Defending the government by saying they have not undertaken any policies in favour of BT cotton, Gowda said farmers themselves are willingly going in for it.
"We have not given any subsidies for BT cotton. We give subsidies to non-BT cotton. Nor have we published any material on BT. Farmers are using it on their own," Gowda said. Biotech experts and academicians are going about holding sessions with farmers in the state, "to educate them about facts concerning biotechnology."
Vice-chancellor of University of Agricultural Sciences, K Narayana Gowda, said they have initiated dialogues with farmers across the state.
"In November, we met farmers in Mysore, trying to clear their doubts regarding BT," he said.
Why is there opposition to GM food?
According to experts at Greenpeace, scientists are able to create plants, animals and micro-organisms by manipulating genes in a way that does not occur naturally. These genetically modified organisms (GMOs) can spread through nature and interbreed with natural organisms.
Through this process, natural organisms are contaminated and have unforeseeable and uncontrollable affects on future generations. What is released by these GMOs is 'genetic pollution', and poses a major threat as because once released, cannot be recaptured or contained in the environment. These pose health risk to all living beings and organic agriculture, according to scientists.