12 transgender artistes and RJ Devaki performed a four-minute Qawali in the city on Wednesday to raise voter awareness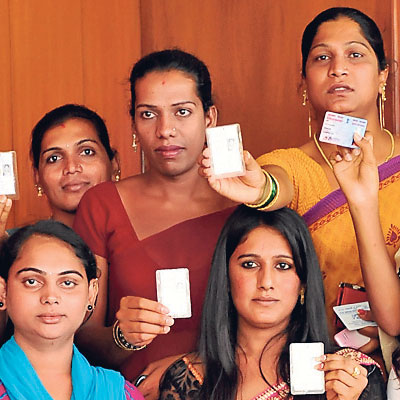 India is probably facing the most crucial election ever. So, each one in his or her capacity is trying its best to pitch in people to vote. Devaki, who has been chosen as the youth ambassador by the Election Commission, is making all her best attempts to spread awareness among the people to exercise their franchise.
As part of her initiative, she made sure that a team of transgender artistes came together to spread awareness on voting. Thus, 12 transgender artistes and Devaki performed a four-minute Qawali here in the city on Wednesday.
It was the first time in the country that transgenders performed openly in front of the huge crowd after the Supreme Court gave them recognition. This initiative is part of the campaign, Dabaa ke Bajaa, around the general elections.
"They were very scared initially. Sonia De, the leader of Trans Genders, was alone to perform. But she insisted on being accompanied. The joint chief electoral officer was very happy to see them performing," said RJ Devaki.
She has also done a 7-minute-long skit on None Of The Above (NOTA) at various malls in the city. They are going to perform at several gardens on Thursday. Further, they have prepared Rap on how to operate the Electronic Voting Machine. They will take the EVM to different places and spread awareness among the youth on how to promote it. They have also started an exercise with traffic police to take a pledge from each person to whom they give the memo.
A concert will also be put up by them. Kavi Nanalal bridge is being painted by the upcoming artistes, which will give them the largest possible canvas to spread the importance of voting. More and more interactivity will be held which will lead to promote stories on voting. Hoardings will be put across in Gujarati and Hindi to promote voting. A designed rath will be taken around to exhort people to vote to realise their responsibility towards the nation.