Workshop showcases benefit of SRI technique that requires less water and input, but provides better yield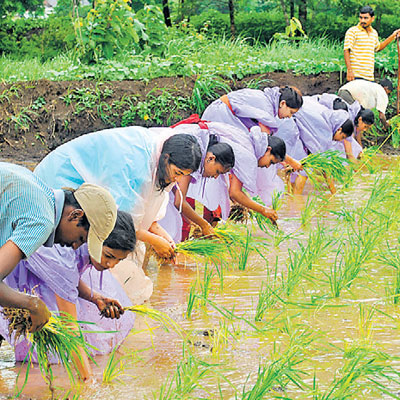 Paddy cultivators in Navsari and Dangs reap fortune in their fields with the new system of rice intensification (SRI), a methodology of crop cultivation has yielded rich dividends. Experts who spoke about the unique technique compared it with other techniques that require a initial high input cost, and said this method of cultivation on the other hand reduces costs.
Apoorva Oza, CEO, Aga Khan Rural Support Programme AKRSP (India) said: "SRI is a new technique that requires less water and seeds. It can yield more on any type of landand for any variety of seed. The biggest impact of implementing this technology is the reduction in the input cost and increased
yield." AKRSP claims that there has been phenomenal increase - ranging from 40% to 150% - in paddy yield for different varieties using SRI technique compared to conventional methods.
Kisanbhai, a farmer from Dangs attended the workshop held in Vidhapith on Friday, He said that the new technique also reduced the need for high number of farm labourers. "Earlier, I would need 30 workers for every acre of land; but now due to this technique it has been reduced to half. The need for water has also gone down by 40% while the rise in production is 25% to 30%," said Kisanbhai.
The SRI technique uses less number of seeds while raising the saplings, which are raised on a bed made of leaves trees and weeds. However, in the traditional method 5 to 6 kg seeds are planted per acre and then the saplings are transplantied to the flooded fields. The SRI technique involves plantation of less quantity of seeds – around 4 kg seeds only – per hectare on raised nursery beds.
"Earlier the rice saplings would be uprooted and the earth washed away before being replanted in the fields. The new technique involves uprooting the saplings along with the earth and being transplanted wholly in the field. This would ensure better growth and root strength. The traditional method requires uprooting of saplings at 25 days, while the SRI technique requires transplanting it when they are only 12 to 15 days old and at pre-determined distances unlike in the methods," said another expert.