dozens injured as unseasonal rain, thunderstorm hit the city and state with hail at many places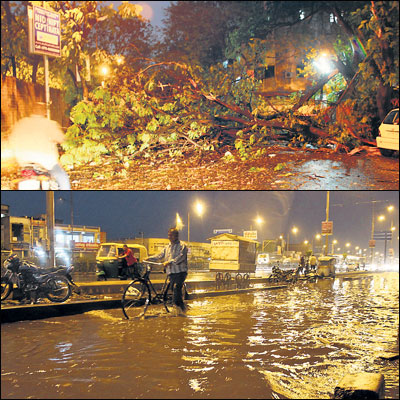 After witnessing dry and hot days, Amdavadis heaved a sigh of relief on Sunday thanks to the Rain God. Though the rain coupled with strong winds provided a good break from the heat, it also caused a lot of damage across the city.
The Ahmedabad Fire and Emergency Services (AFES) and 108 emergency services had a tough time attending calls owing to various emergency situations all over the city. Due to the thunderstorm, trees were uprooted and hoardings came flying down leading to traffic chaos at several places.
Speaking to dna, additional chief fire officer Rajesh Bhatt said: "In an hour, we received around 22 calls asking to remove fallen trees and hoardings from the roads. We are working on the complaints and clearing the roads so that the traffic remains unaffected."
While five trees fell near Gujarat Vidyapith, three trees came to the ground near Camp Hanuman road near the airport. Similarly, three cars were damaged in Akhbarnagar after trees fell on them. According to the police, three people lost their lives due to the trees — one in Nava Vadaj and two in Amraiwadi named Krishnakant Khushwa, 14, and Ramdas Khushwa, 22.
Also, a wall collapse at Isanpur led to the death of a man (Vishnu Prasad), while an unidentified man was electrocuted at Shahibaug.
Power failures were also reported in the city, especially from the Bopal area. "Due to this, a few people were stuck in the elevator of Dev Arc mall on SG Road. Soon, the fire department was called in and the people were rescued in an operation that lasted for nearly 30 minutes," said Bhatt.
Seasonal crop may be affected
It was indeed a welcome break from the scorching heat as majority parts of Gujarat witnessed unseasonal rain with thunderstorm and hailstorm on Sunday. But as an impact, it could have a major impact on mango and other summer crops in the state.
The weather was fine until afternoon when it started getting cloudy. This was followed by strong winds and rain, which transformed into thunderstorm. As a result, trees were uprooted and signboards went flying at most of the place. Majority of the damage was witnessed in Saurashtra and other regions of Kutch.
Gokarwala village in Amreli-Savarkundla area received one inch rainfall, while Dhari and surrounding areas of Amreli district, Chotila in Surendranagar district, Rajkot and Kutch witnessed thundershower and hailstorm. In Rajkot, the hailstorm started in the evening causing panic among the residents.
Other than Saurashtra and Kutch, the unseasonal rain also affected some regions of North Gujarat and Ahmedabad. Sui village in Banaskantha witnessed hailstorm and rain for nearly 15 minutes, while Ahmedabad city witnessed thunderstorm and shower for about an hour. However, Chhota Udepur and some parts of central Gujarat got only light wind and drizzle. This might have given us reprieve from the heat but for farmers it was nothing but disaster. It is expected that mango and sesame crops would be badly affected by the Sunday downpour.
Luckily, Talala region known for Kesar Mango did not witness much damage. "Thankfully, we did not witness any thunder shower or hailstorm here. The mango crop in the area has already been reduced to 50% due to hailstorm earlier this month. Had it been the case again, it would have been resulted in 100% failure of mango crop," said Gafar Kureshi of Talala.
Untimely downpour
The mall faced another major accident as a huge glass door at the entrance came down crashing, injuring 15 people. Five of the injured were taken to Sola Civil hospital, while the remaining got treated in the OPD of the 108 van.
Around 30 advertisement hoardings fell on one of the busiest roads of the city — Ashram Road — adding to the traffic woes. According to the data obtained from 108 services, a mobile tower near Ranip's Balolnagar also came to the ground, but no casualties were reported.
A huge structure (ride) erected in GMDC ground as a part of funfair collapsed, injuring 10 people, while in Bapunagar an old wall collapsed but no injuries were reported. The heavy winds also damaged the helium tethered balloon of Kankaria Lakefront.
"We do not operate the balloon during windy days to avoid accidents. On Sunday, looking at the weather, the balloon was tied to the ground. However, due to heavy wind, the balloon collapsed and suffered damages. Luckily, no injuries were reported." While the city was having a bad time dealing with accidents, many events also got cancelled. Out of the 15 3D Sabhas planned across the state, four stood cancelled while three got disrupted. The concert of Shreya Ghoshal to be held at Rajpath Club was also cancelled.