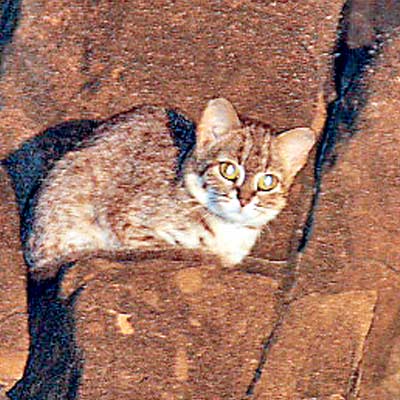 Known to be nocturnal and very secretive, the rusty-spotted cat (Prionailurus rubiginosus) has been sighted in Kutch. What makes the sighting unique is that this is the first time that the smallest cat of the wild-cat family has been spotted in Kutch.
The rusty-spotted cat was found by Vaibhav Mishra, who is a naturalist working with Centre for Desert & Ocean Kutch (CEDO) in Banni in Chhari-Dhand bird conservation area. Mishra took pictures of the cat, realising that the species was quite an interesting one. CEDO's Jugal Tiwari and wildlife expert, Dr Shomita Mukherjee, confirmed the species as rusty-spotted cat.
Tiwari informed that the cat is usually found in jungles and at times in rocky areas. "It has been spotted in Surpaneshwar in South Gujarat, Indroda Park, Kevadi and Jambhughoda, all of the regions happen to have much more forest cover than Kutch," said Tiwari.
Deputy conservator of forests (Kutch west division), PA Vihol, said that spotting of such cats raises possibility that the area could've more such mammals. "We will also try to find out if more such are in Kutch," said Vihol. "Probability of one, single rusty-spotted cat is unusual."
The rusty-spotted cats are found in the Indian Subcontinent, mainly in South India, parts of Gujarat, Jammu & Kashmir and Sri Lanka. It preys on small birds and mammals, and is known to eat insects, reptiles and frogs. Primarily nocturnal, the cats rest in dense foliage during the day. Partly arboreal, they are accomplished climbers.