In the book 'Silver Lining: Insights into Gujarat', IAS officer Jayanti S Ravi recalls her experiences as a civil servant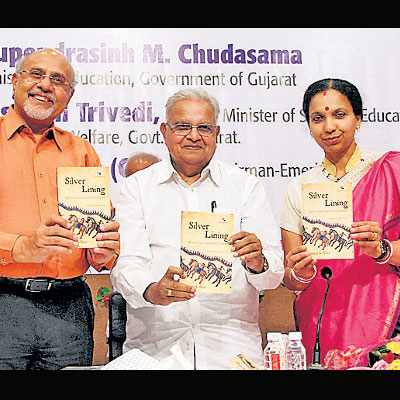 The book, 'Silver Lining: Insights into Gujarat', by Dr Jayanti S Ravi, IAS, Commissioner of Technical Education, Government of Gujarat, is a collection of instances and experiences of the author at various points during her journey as a civil servant. The book was launched at Ahmedabad Management Association on Thursday.
Recalling two incidents narrated in the book, she said: "Following the Godhra carnage in 2002, we were in the process of re-instilling confidence among the displaced persons and moving them from relief camps to their homes. There were a series of meetings to calm down the situation and both the majority and the minority were heard. We could create the bond and faith among them; however, Saragwa Mahudi was a difficult village."
She further said: "There was an absolute animosity. So, we held the meeting of both the communities at Patel Agewan to ensure that the process of rehabilitation goes through smoothly."
"Meanwhile, I was greeted by a woman sarpanch. She was articulate but seemed afraid. She went to different mohallas to invite the local leaders for a dialogue. The sarpanch squatted at the gate one of the houses. I couldn't figure out, but she belonged to the scheduled caste and that prevented her from entering the house. I was determined to cement the divide and she finally crossed the threshold. It was a moment of history in the village, she added."
Similarly, "There is a 105-year-old library at Navsari with 50,000 books and 3,500 members. The library has been organising a talk- 'The book of my choice', every month for the past seven years."
Bhupendrasinh Chudasama, Gujarat education minister and Vasuben Trivedi, minister of state for education, women and child welfare were unable to attend the book launch. G Narayana, chairman emeritus, Excel Industries Ltd was present at the function. The hall was packed with leading luminaries in the world of education, prominent authors from Gujarati literature, among others.