Cong workers created an issue when polling booth officers were seen using pens having Modi's name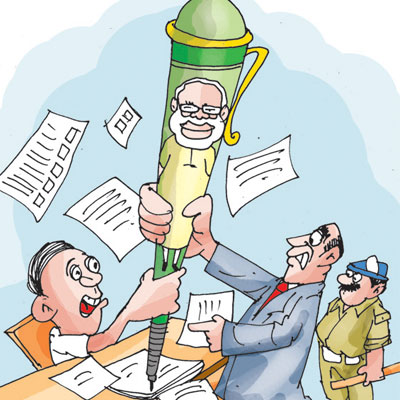 Modi pen-drives, T-shirts and stationery might have created a wave among youngsters and Modi fans to possess such products. But, the same products created a ruckus at a polling booth in Chandola on Wednesday. On the day of voting, the booth level officers deputed in Chandola's polling booth were seen carrying out their duty using Modi pens, which led to a ruckus by some voters.
Violating the model code of conduct that does not allow political banners or party symbols on polling day, a majority of the staff deputed at Chandola Gujarati School No. 1 and 2 in Danilimda ward used Modi pens on their booth premises, in front of hundreds of citizens who came to vote. For nearly three hours during the first half of the day, the staff continued to work and record the votes with such pens, after which a few voters raised this issue around 10 am.
"When I entered the premises to vote, I was surprised to find more than half the staff with Modi pens. When I raised the issue, the officers called their superior, who arrived with security guards and got it removed," said Imran Makwana, a Congress worker and a resident of Danilimda.
Acknowledging the mistake, the staff present at the school said: "Yes. We agree it is a mistake on our part. But it's completely unintentional. We were not aware about the violation of the model code. However, when we came to know, we soon got the pens replaced."
Asked how did so many pens arrive at polling booths in large quantities and who gifted them to these polling booth officers, they replied that they had these pens since long and continued using them on the day of voting as well.
Soon after, another Election Commission official arrived at the booth to check on the complaint received. "However, when I reached, the pens were already removed by these officials and I saw them working with ordinary pens," said Pareshbhai, sector in-charge of the polling area.