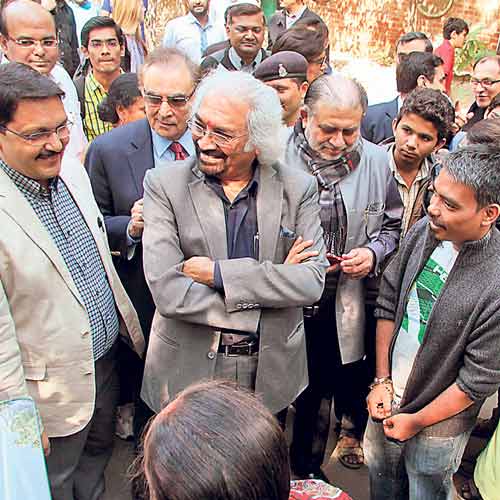 Prime minister's advisor for innovation Sam Pitroda on Sunday defended the UPA government over allegations of being inefficient and corrupt. He was in the city to attend National Institute of Design's (NID) annual event Maker Fest 2014.
Downplaying claims of widespread corruption against the government, Pitroda said: "Issue of corruption can be sold easily to people. Without verifying the facts, we just believe that corruption happened. Even Rajiv Gandhi was once labelled as corrupt, but I know that he was never involved in any such practice," claimed Pitroda.
According to Pitroda, the UPA government has done well under the given circumstances.
"The present government has achieved significant growth and implemented several schemes, such as NREGA and food security bill to name a few. Given the conditions, we have done well in terms of economic growth," he said.
The National Innovation Council chairman also wished that a non-coalition government will come to power after the 2014 Lok Sabha elections. "For a stronger economy and stability in the country, we need a non-coalition government," said Pitroda.
On being asked why Gujarat missed the Information Technology (IT) train, Pitroda said that the state government did not pay attention to higher education.
"This is known to everyone that Gujarat has missed the IT train because the government didn't pay attention to higher education. The quality of education in the state has drastically deteriorated. In our times, a degree from MS University was acclaimed and accepted world over, such was the reputation of that university. Now, we have lost that sheen. The government is also not giving emphasis to English language, which is very important in the current scenario," he said.
After visiting different stalls at the annual event and meeting young innovators, Pitroda shared his views about the overall innovation scenario in the country. According to him, western solutions are of no use to Indian problems.
"Our problems are more complex than any other country. Solutions from the western world are not proving effective. For Indian problems, we need Indian solutions, which are more affordable, scalable and sustainable," advised Pitroda.