17 lakes lie neglected due to maintenance issues between Auda & AMC.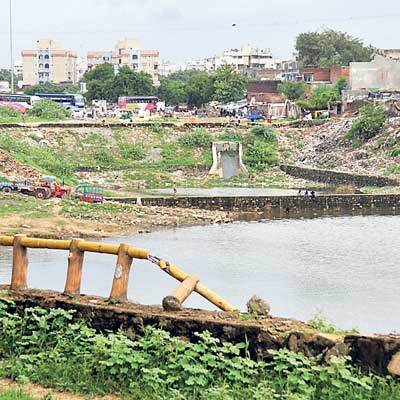 Blame it on government apathy for waste of public money. The Ahmedabad Urban Development Authority (Auda) has developed 17 lakes in the city that have been brought under Ahmedabad Municipal Corporation (AMC). This happened eight years ago. But, maintenance of the lakes seems to be the bone of contention between Auda and AMC. As a result, the lakes have become a nuisance rather than places for recreation.
The 17 lakes are at Memnagar, Science City, Sola, Chandlodia, Ranip, Kali, Anandnagar, Vejalpur, Bodakdev, Jaspur and Motera. Auda has spent over Rs40 crore to develop these lakes for residents to enjoy recreation.
Now, these areas are within AMC limit. But there is no clarity over the responsibility to maintain the lakes. Auda officials claimed to have handed over the lakes to the AMC for maintenance, while the latter has refused to take charge of them.
"The whole new west zone has been created and all the lakes fall under this zone. So, it is natural that the responsibility of repair and maintenance would lie with AMC," said Auda chairman Dharmendra Shah.
AMC officials, however, refused to accept responsibility of maintenance as the lakes were not handed over formally. "In 2010, a meeting was convened to hand over charge. But, as some of the lakes were under-developed, it was difficult to fix responsibility for the quality of construction. As a result, it was decided that Auda would complete the work before handing over charge to AMC," said a senior AMC official.
The deputy municipal commissioner of AMC's new west zone, however, was not available for comment, while SM Khatri, the deputy municipal commissioner of AMC's parks and gardens department, was not aware of any such issue.
Owing to lack of clarity, the lakes are lying neglected and it would be necessary to pump in more money to make them accessible to the people. So, citizens living nearby have to suffer due to the apathy of the authorities.
"We don't know who is responsible for maintenance. But, one of the two should take responsibility soon because the lakes have become a breeding ground for mosquitoes in monsoon and dump yards rest of the year," said Sridhar Bhatt, a resident of Memnagar.
List of lakes
Memnagar, TP1
Ranip TP 66
Ropda Lake, Jodhpur TP 21
Sola Lake, TP 41
Sola Lake TP 42
Motera Lake TP 21
Gota Lake TP 29
Yadudi Lake Chandlodia TP 42
Kali Lake
Anandnagar TP 27
Vejalpur TP 6
Jaspur (water treatment plant)
Memnagar Amphitheatre
Bodakdev TP 50
Sola TP 29 (Transit pond).