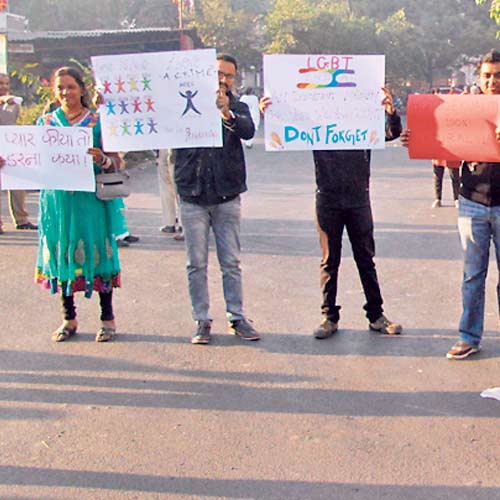 Activists working for the rights of LGBTs plan to approach the government for a welfare board for them on the lines of the ones for women and children.
Phalguni Prajapati, project officer of a community based organisation, Sawavalambi Chuval Gram Mandal, which works with close to 4,500 homosexuals said it is time there was a welfare board for LGBTs too. "We as an organisation plan to approach the government. Tamil Nadu already has such board in place, while Maharashtra is in the process of forming one," said Prajapati. She was speaking at a rally organised by activists and people supporting homosexuals and demanding repealing of Section 377 of IPC.
Around 10 to 12 people both LGBTs and those supporting their rights, carrying placards, stood on the route of the Run For Unity programme to sensisitise people. Dhaval Shah, one of those carrying the placards, said that it is time for the politicians to realise that homosexuals are a sizeable minority and can have an impact on election results.
"What I do in my bedroom is nobody's business. Section 377 is not against sexual orientation, but against a sexual act and under the rule anyone irrespective of their sexual orientation can be punished," said Shah. He added that the silent protest was being carried out as part of the 'Global Day of Rage' that was being held at 27 cities across the country. Another protestor, Pushpendra, said that the rule can be used by anyone for harassment.
"A gay person as per section 377 becomes a criminal as he can be booked for homosexuality.
He can also lose his job as the company may not fire him on the basis of his sexuality but by the mere fact that he has been accused in a criminal case," said Pushpendra. He said it will also affect the fight against HIV as many homosexuals will not come for counselling and awareness programme for fear of being persecuted.
He said that those who are not homosexuals but support LGBTs right to their life and sexual orientation will also find themselves at the receiving end of hate-mongers, thanks to section 377.