AS Kirankumar speaks to Amdavadis on unknown facts about Mars mission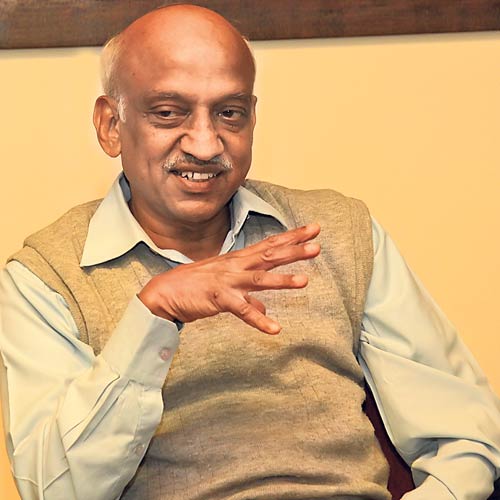 At a time when India's maiden mission to Mars has travelled almost one-fourth of its total distance of 25 crore km, director of Indian Space Research Organisation (ISRO) AS Kirankumar revealed some unknown facts about the Mars Orbiter Mision (MoM). One of them being that after travelling for 10 months when its main engine is shutdown, it will enter into the Mars' orbit in an automatic mode as communication at that point will not be possible with the satellite.
Addressing students, scientists and space enthusiasts at the Ahmedabad Management Association on Wednesday, AS Kirankumar said the most critical phase of the mission was trans mars injection (TMI) manoeuvre. "TMI was more critical than entry into the orbit of the mars as each step in manoeuvre was to be precise in terms of timing, velocity and direction of the spacecraft. You can say the toughest part of the mission was completed successfully and perfectly on December 1," Kirankumar said.
During his 50-minute long presentation to the audience, he also addressed the issue of selection of the rocket vehicle for the launch –PSLV (polar satellite launch vehicle) over GSLV (geosynchronous satellite launch vehicle). "Coasting phase – where spacecraft travels on the velocity of the earlier burn – is not possible in GSLV. It is allowed only in PSLV. The other thing is that we already have had success in Chandrayaan when transfer orbit was possible. PSLV also saves fuel," he said.
"Argument of perigee required for Mars mission was 270 degree, point of entry and velocity required is also not possible with GSLV that would have given 170 degree. Therefore, PSLV was selected as the launch vehicle," he added.
Explaining the challenges between now and when the orbiter enters into Mars' orbit, the ISRO director said that keeping the satellite vehicle in good health, avoiding influence of gravitation forces of the solar system – Venus, Earth, Sun, Moon and Mercury – and handling of momentum dips are the biggest challenge. "It has travelled 55 lakh kilometre from Earth and all things are working perfectly. There are specific designs, sensors and equipments that will keep it in a good shape," he said.
Explaining how it maintains it its path towards Mars, he said that there are star sensors on board of the craft. "These start sensors will map the position of the stars to help the orientation. It is like sailors using cloth in the past," he said.
After two course correction in April and August 2014, the vehicle is expected to enter into Mars' orbit with 50 square kilometre window. "To keep that window all data are gathered. As at the time of entry, the vehicle will be behind Mars and there will not be any communication possible from Earth. The vehicle will enter into the orbit on an automatic mode, if it is successful, it will be a great achievement for India and the space community. For any course correction required, we will enter data into the vehicle 10 days before the expected date of entry of September 24, 2014,"he added.
Points to ponder
It is travelling at a velocity of 3.4 km per second and when it reaches Mars it will increase to 34 km per second
LAM engine, the main engine of the orbiter, is shut down. It will be fired after 10 months at the time of entry
Total fuel on the aircraft is 850 kg. Total fuel burnt till date is 470 kg
It takes 12 seconds to send a signal or command to the craft at present. When it is in Mars' orbit it will take 20 minutes
The Orbiter, once in the orbit of Mars, is designed to last for six months for various experiments.