Trierweiler 'took one pill too many after Hollande told her of mistress'.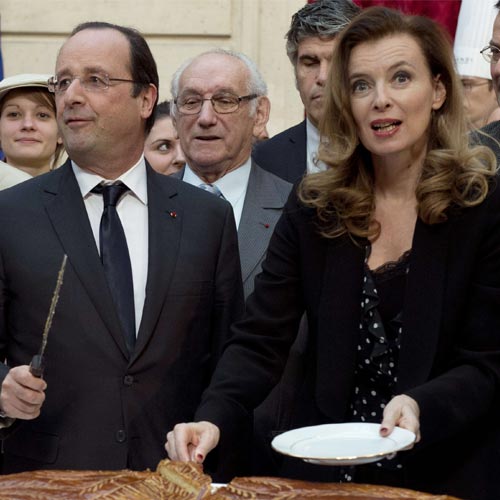 Francois Hollande wanted to break up with Valerie Trierweiler at the weekend but had to ditch the idea after she "took one pill too many" and was taken to hospital, French media reported on Thursday.
Le Nouvel Observateur, the Left-leaning magazine, claimed that the French president had hoped to get his official partner to sign a joint announcement of their separation on Saturday, the day after details of his alleged affair with the actress Julie Gayet were published. According to the magazine Le Point, a friend of Miss Trierweiler said she was in hospital having taken "one pill too many" the night Hollande confirmed the affair in a "cold and implacable" manner. In a state of "deep despair", she woke up on the Friday morning feeling sick and "terribly alone" and asked to be taken to hospital. Le Point quashed the idea that Miss Trierweiler had tried to commit suicide.
It said Hollande had denied involvement with Gayet in the weeks leading up to the publication of photographs in the magazine Closer last Friday. Le Nouvel Observateur reported that, with a crucial press conference scheduled for Tuesday, Hollande, 59, had surmised that an announcement of a clean break with Trierweiler was the "least worst solution".
But by Sunday, he interpreted the news that she would be staying in hospital for the foreseeable future as "dismissing out of hand" his preferred option. She had "not the slightest intention of packing her bags", the magazine reported. Last night Trierweiler broke her silence to contact a radio station from hospital, denying that Hollande had declined to visit her and insisting instead that he had been barred from doing so by doctors. She further added that he had sent her flowers and chocolates, and said that she had not suffered a nervous breakdown but rather "extreme fatigue".
But an Elysee source told RTL radio that the president was "not unhappy" about the orders forbidding him to visit. Paris Match, for which Trierweiler, 48, has long worked, wrote a supportive article saying she had tried hard to "keep the flame" of romance alive with Hollande, but that they had drifted apart because of the strains of the presidency. Le Nouvel Observateur said the supposed "secret affair" with Gayet, 41, had been an open secret for "months".
It said "alarm bells started ringing" as early as August, when Trierweiler flew alone to Greece while the president travelled to Correze, his regional power base in central France, where Gayet was spending her holidays. The reports come as a book on Hollande's presidency - called So Far, So Bad and published this week - said that one of his first questions after taking up office last year was: "How can I get out of here without being seen?"
Another was: "Can I keep on riding my scooter?" The book, by Cecile Amar, a political journalist with Le Journal du Dimanche, also describes Trierweiler's obsession with Segolene Royal, Hollande's ex-partner and mother of his four children, leading to her notorious tweet in support of Royal's Socialist rival in parliamentary elections. Miss Royal later exclaimed in words that appear prophetic: "She would do better to worry about who's next."
Meanwhile, Cecilia Attias, who was Nicolas Sarkozy's wife when he became president in 2007, has called on France to reform the role of first lady, which currently has no legal status. It has created an unclear situation where the first lady has an office funded by taxpayers, but no official budget.
Attias, who left Sarkozy for another man five months after his election, said: "When you elect a man or a woman, there is a partner, and you cannot literally erase them." She said Paris should set up an office of the first lady, as in the US, with a budget and designated staff.