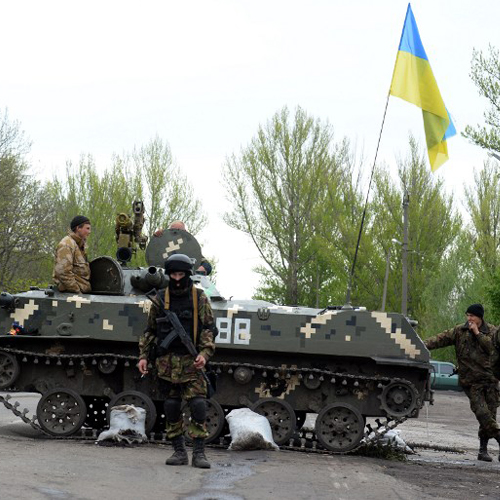 Ukraine's military is "on full combat alert" against a possible invasion by Russian troops massed on the border, acting President Oleksandr Turchynov said in a ministerial meeting in Kiev on Wednesday. "Our armed forces are on full combat alert," he said. "The threat of Russia starting a war against mainland Ukraine is real."
His comments came as Ukraine's army and police appeared to be making little progress in a high-profile operation to stop pro-Russian rebels expanding their grip over towns in the restive east.
Turchynov several weeks ago also announced Ukraine's defence forces had been put on high alert, but there was no visible sign of any increased readiness.
Russia deployed an estimated 40,000 troops to its shared border with Ukraine in March. Moscow initially said they were mobilised for exercises but said last week they were ready to respond to Kiev's military offensive against pro-Kremlin rebels. Russian President Vladimir Putin asserts he has a "right" to send his forces into Ukraine, but has not yet done so.
Kiev and Washington, however, say Russian special forces are already active in east Ukraine, leading an insurgency that has overrun 14 towns and cities.
Turchynov told the cabinet meeting that "our number one task is to prevent terrorism spreading from the Donetsk and Lugansk regions to other Ukrainian regions". He underlined moves announced a day earlier to set up armed civilian "territorial volunteer militia" units to help beleaguered police and troops in the restive east.