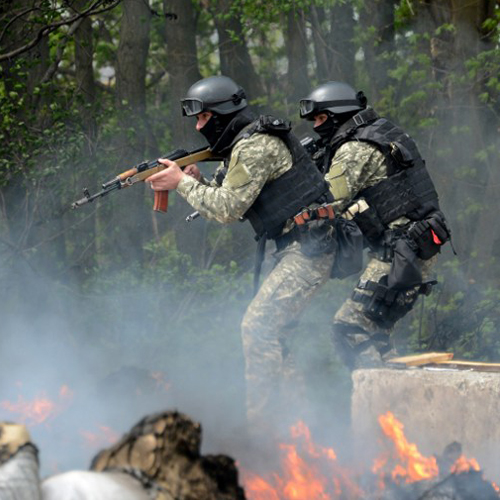 Ukrainian President Poroshenko said on Thursday that Russian forces had invaded Ukraine and he called an urgent meeting of the Ukraine's security and defence council to decide the next steps to take in the crisis.
"I made the decision to cancel a working visit to the Republic of Turkey in connection with the rapidly deteriorating situation in Donetsk region, in particular in Amvrosiyivka and Starobesheve, as an invasion of Russian forces has taken place," he said in a statement on the presidential website.
Ukraine's security and defence council, in a meeting on Thursday, said the border town of Novoazovsk and other parts of Ukraine's south-east had fallen under the control of Russian forces who together with rebels were staging a counter-offensive.
"A counter-offensive by Russian troops and separatist units is continuing in south-east Ukraine," the council said in a post on Twitter.
It said Ukrainian government forces had withdrawn from Novoazovsk "to save their lives" and were now reinforcing troops in the port city of Mariupol. It added that Russian forces and separatists were combining to launch a counter-offensive on Ilovaysk and Shakhtarsk, east of the big city of Donetsk.
Earlier, East Ukrainian pro-Russian separatist leader Alexander Zakharchenko said serving Russian soldiers, on leave from their posts, are fighting Ukrainian troops alongside the rebels, Russian state television reported.
"Among us are fighting serving soldiers, who would rather take their vacation not on a beach but with us, among brothers, who are fighting for their freedom," said Zakharchenko in an interview posted on Vesti.ru, the Internet site of a Russian state television station.